List Of The 50 Best Players In The World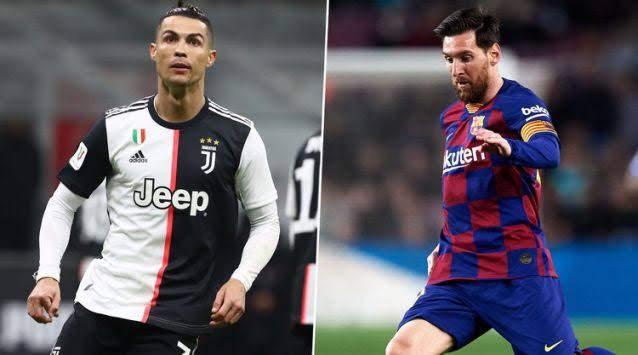 Popular interactive game on mobile phone, Xbox Series X and Xbox One, Football Manager has released the latest installment of the game, FM21.
The Daily Mirror has now tapped into the FM database which has data on more than 800,000 individuals and 45,000 active clubs to find out which players would rank inside the top 50 footballers in the world.
See below for the top 50 as Portugal/Juventus star and Argentina/Barcelona star remain top.
50. Kalidou Koulibaly (Napoli): current ability — 164/200
49. Sergej Milinkovic-Savic (Lazio): current ability — 164/200
48. Erling Haaland (Borussia Dortmund): current ability — 164/200
47. Pierre-Emerick Aubameyang (Arsenal): current ability — 164/200
46. Angel Di Maria (Paris Saint-Germain): current ability — 164/200
45. Miralem Pjanic (Barcelona): current ability — 164/200
44. Fernandinho (Manchester City): current ability — 164/200
43. Philippe Coutinho (Barcelona): current ability — 165/200
42. Wojciech Szczesny (Zebre/Juventus): current ability — 165/200
41. Raphael Varane (Real Madrid): current ability — 165/200
40. N'Golo Kante (Chelsea): current ability — 165/200
39. Serge Gnabry (Bayern Munich): current ability — 165/200
38. Casemiro (Real Madrid): current ability — 166/200
37. Romelu Lukaku (Inter Milan): current ability — 167/200
36. Paul Pogba (Manchester United): current ability — 167/200
35. Son Heung-min (Tottenham Hotspur): current ability — 167/200
34. Luka Modric (Real Madrid): current ability — 167/200
33. David Silva (Real Sociedad): current ability — 168/200
32. Ederson (Manchester City): current ability — 168/200
31. Gerard Pique (Barcelona): current ability — 169/200
30. Leroy Sane (Bayern Munich): current ability — 169/200
29. Roberto Firmino (Liverpool): current ability — 169/200
28. Paulo Dybala (Zebre/Juventus): current ability — 170/200
27. Luis Suarez (Atletico Madrid): current ability — 170/200
26. Toni Kroos (Bayern Munich): current ability — 170/200
25. Aymeric Laporte (Manchester City): current ability — 170/200
24. David Alaba (Bayern Munich): current ability — 171/200
23. Bernardo Silva (Manchester City): current ability — 171/200
22. Joshua Kimmich (Bayern Munich): current ability — 171/200
21. Raheem Sterling (Manchester City): current ability — 172/200
20. Thibaut Courtois (Real Madrid): current ability — 172/200
19. Sergio Ramos (Real Madrid): current ability — 174/200
18. Marc-Andre ter Stegen (Barcelona): current ability — 174/200
17. Antoine Griezmann (Barcelona): current ability — 175/200
16. Eden Hazard (Real Madrid): current ability — 175/200
15. Jan Oblak (Atletico Madrid): current ability — 175/200
14. Alisson (Liverpool): current ability — 175/200
13. Sergio Aguero (Manchester City): current ability — 178/200
12. Manuel Neuer (Bayern Munich): current ability — 178/200
11. Karim Benzema (Real Madrid): current ability — 178/200
10. Mohamed Salah (Liverpool): current ability — 179/200
9. Virgil van Dijk (Liverpool): current ability — 180/200
8. Sadio Mane (Liverpool): current ability — 180/200
7. Neymar (Paris Saint-Germain): current ability — 181/200
6. Kylian Mbappe (Paris Saint-Germain): current ability — 181/200
5. Harry Kane (Tottenham Hotspur): current ability — 182/200
4. Robert Lewandowski (Bayern Munich): current ability — 184/200
3. Kevin De Bruyne (Manchester City): current ability — 188/200
2. Cristiano Ronaldo (Zebre/Juventus): current ability — 194/200
1. Lionel Messi (Barcelona): current ability — 195/200