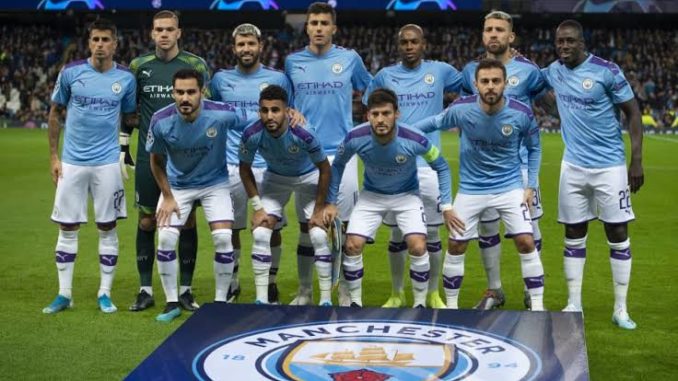 Manchester City have been banned from all UEFA competitions for the next two seasons and fined £24.9m for "serious breaches" of UEFA's Financial Fair Play and club licensing regulations.
An Adjudicatory Chamber of the Club Financial Control Body (CFCB) found the Premier League champions guilty of serious breaches of the UEFA Club Licensing and Financial Fair Play Regulations.
In a statement, UEFA said City "overstated its sponsorship revenue in its accounts and in the break-even information submitted to UEFA between 2012 and 2016".
The club were also found guilty of "failing to cooperate in the investigation by the CFCB" and will be banned from Europe in the 2020/21 and 2021/22 seasons.
Manchester City Women's Football Club's involvement in the UEFA Women's Champions League will not be affected by the UEFA ban.
Man City say they are "disappointed but not surprised" by the verdict, describing the process as "prejudicial", and will take the case to Court of Arbitration for Sport.
They released a statement, reading: "Manchester City is disappointed but not surprised by today's announcement by the UEFA Adjudicatory Chamber. The club has always anticipated the ultimate need to seek out an independent body and process to impartially consider the comprehensive body of irrefutable evidence in support of its position.
"The fact Manchester City are going to appeal this is no big surprise, but this is still something of a shock in European football.
"What happens now is all roads lead to sleepy Lausanne in Switzerland, and the Court of Arbitration for Sport – the highest court in sport. It has presided over many high-profile cases in world football and it is where UEFA and Manchester City are going to go head to head.
"The stakes could hardly be higher and spare a thought too for the clubs sitting fifth and sixth in the Premier League in particular – Sheffield United and Tottenham – because ultimately, if this sanction does follow through, then that would have huge ramifications for the fourth place. That would then go to the fifth-placed team in the Premier League, who would then bump up a place and reach the Champions League for the next season.
"Certainly, this is not a process that is finished yet. It ultimately now leads to the courts."
How did it get to this?
"This has been the result of a long-running dispute over UEFA's financial fair play rules. All those rules really say are that 'you can only spend what you earn'.
"Michel Platini, when he was president of UEFA, was worried clubs like PSG and Manchester City had very rich owners who could suddenly pump huge amounts of money into their clubs and gain a competitive advantage, so they introduced these rules.
"What UEFA have accused Manchester City of doing is 'gaming the system', inflating the amount of money they were bringing in from sponsorship deals so that they could show they were making more than they actually were, so they could spend more.
"All along the way, City have denied any wrongdoing whatsoever. They have always been very aggressive in defending the interest of their own club.
"This investigation has been going on for a while. It actually started when all the hacked emails of clubs and football agents by 'Football Leaks' ended up with a German magazine called Der Spiegel. They went through all these emails and came up with the story accusing City of breaking FFP rules, deceiving UEFA.
"The UEFA investigation was led by the former prime minister of Belgium – he decided that Manchester City were guilty of wrongdoing. The case was then handed to the judges of UEFA's Adjudicatory Chamber and they have come out and said the club should be banned from UEFA competitions for two seasons and be fined around £25m."