Game Of Love – Tuesday Update (11 May 2021) – Star Life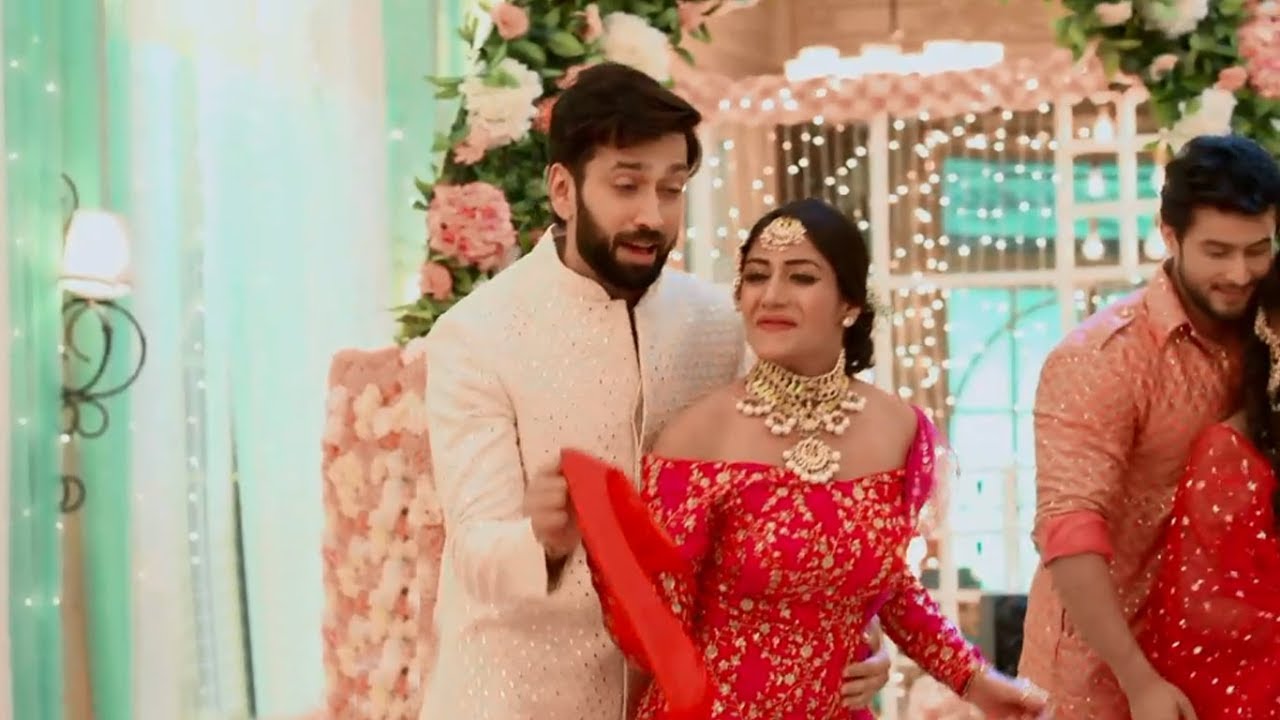 Game Of Love 11 May 2021: Shivaansh says Mannat trusted me when no one trusted me, I accepted defeat, but she did not, she has helped me in escaping to jail and getting Varun caught. Nani hugs Mannat and says you did something that I was supposed to do, you proved that you are Shivaansh's wife in real sense. She unites Shivaansh and Mannat's hands. She says you both always be together. She scolds Varun for hurting the family. She says Lord will punish you. Varun says shut up you old woman, you all are also not getting quiet, you all should worship me, I married Radhika, I saved her reputation, else who would marry the girl whose one eye is damaged. Sahil slaps him and asks how dare you talk ill about her, you are no match for her, commissioner take him, make him suffer.
Shivaansh says wait, Varun can't plan
all this alone, the mastermind is someone else, who helped Varun stage his death, find him. Nandini says don't worry, we will make him admit it. Radhika cries and says I trusted Varun and not you. Shivaansh hugs her and asks her to change her white clothes and start a new life, take this as a new beginning. Radhika apologizes to Mannat. Mannat says I didn't feel bad, everyone gave me much love. She hugs Radhika. Sahil says you proved that you are Shivaye's blood, we all are proud of you. Shivaansh hugs everyone. Mannat happily cries. Nandini says the danger isn't over completely. Shivaansh says I m not afraid of anything. She says I know the reason. Mannat asks what did she say, everything will get fine. He says I can't see Radhika crying. She says its okay to cry sometimes, pain flows out with tears. He asks who said it. She says I did. He jokes on her age. Nani calls them and does aarti. She blesses them. Shivani says I have to click a pic. Everyone stands along to take a family pic.
Shivaansh gets coughing and falls down. They all get shocked and run to him. They take Shivaansh to hospital. Doctor Srivastav stops them out. He comes to them and says we won't be able to save Shivaansh. Everyone gets shocked and asks him to save Shivaansh. He asks Khanna did he not tell them. Nani asks what's the matter. Sahil takes them aside and says Shivaansh is going far from us forever. Nani asks him to stop it. Sahil says he has same heart disease as Shivaye, now he is at an advanced stage, there is a cure, but doctors are saying that Shivaansh can't survive the operation. Mannat says its a lie.
Sahil says its tough to believe this, check these reports. She says this can't happen. She tears the reports and runs to meet Shivaansh. Srivastav asks Mannat to go out. Mannat asks Shivaansh to get up. She says nothing can happen to you. He coughs. She says they are saying about your illness. He says they are right, I already know this and I m prepared for this, but my family isn't prepared, just you can handle them, you are the one whom my family and I can trust, all of them will be shattered after I go, you have to take care of them, you won't face any problem.
She says nothing can take your place. He says you are a little girl. She says you are behaving like a kid, you have given up so easily. He says people can't fight with his fate. She says person can fight even with Lord, just some courage and strength is needed, fight once and see, you will defeat fate, you will get fine. Nani says she is saying fine. Shivaansh asks them not to get sad, I m Shivaansh who entertains the world, I don't wish to see anyone crying for me, I only want to see you smile. Nani says dare to go and I will break your legs. Doctor asks them to come out. Sahil takes everyone out. Shivaansh stops Mannat.
Mannat says I will go with Khanna and talk to better doctor. He says Dr. Srivastav is the best, he said so as my body can't handle the operation. She says I will talk to him. He says sit here, I have called you a liar, fraud and obsessive fan, I ousted you and blamed you, I never trusted you, you always supported me, our relation is special as you trusted me, when none did, I want to apologize to you, sorry.Shivaansh says our relation is special as you trusted me when I lost faith in myself, our journey ends here, I want to apologize to you, I m sorry. Jaanejaan…plays… He says I want to make up for what I did, tell me what shall I do to please you, it was not my idea to marry a girl and ruin her life, I was going to fake my marriage with Sonya, but we ended up getting married, I know you must have a lot of dreams which I can't fulfill, tell me what can I do for you, that I get some peace before dying. Mannat asks are you sure. He says yes. She says you get the surgery done, if you really want to do something for me, don't lose hope, don't listen to the doctors, listen to your heart, if not for me, at least for family, please. He coughs and falls back. She calls the doctor.
Srivastav attends him. Sahil says I think we should take Shivaansh home. Shivani says yes, we can spend time with him. Mannat says no, we will get his surgery done. Sahil says he has no strength to bear the surgery. Mannat says he has a strong will, he will get fine. Sahil asks doctor how is Shivaansh. Doctor says Shivaansh is ready to take this risk, I don't know how you convinced him. Mannat goes to Shivaansh and sees him. He signs to her. They talk via signs. Jaanejaan….plays….. Srivastav says this operation is risky, survival chances are just 10 percent. Mannat says its enough, Shivaansh will get fine. Srivastav asks who will sign on consent form. Sahil says I will sign. Nani says no, Mannat will sign, I know her belief will give a new life to Shivaansh. Mannat signs the form. Nani says I thought to keep a grand celebration for Maha Shivratri, Shivaansh's life is in danger.
Mannat says you know, its said that if we worship the shivling and make a wish, it gets fulfilled. Khanna says there are a lot of stairs on the temple, you have to get on knees and climb the stairs, and light diya on each stair. Mannat says I can do anything for Shivaansh. Nani hugs her.
Reporter tells about Shivaansh's illness and surgery. Fans pray for him. Shivaansh goes for the surgery. Mannat reaches the temple with a candle in hand. She gets on knees and lights each diya kept on the stairs. Everyone cries and prays for Shivaansh. Mannat's knees bleed while she reaches the temple area. Shivaansh's operation goes on. Mannat rings the temple bell and does the Shivling Abhishek. She prays for Shivaansh. Zhe says we are very different, he is a superstar and I m an average girl, he is very special for me, if anything happens to him, I can't live without him, many fans are praying for him, at least listen to them, save him, let him live, take my life instead, he deserves a long joyful life. She comes to hospital. Nani asks what happened, you are so much hurt. Khanna says you went through a lot for Shivaansh. Nani says your prayer will be fulfilled, our Shivaansh will surely recover. Srivastav comes. Everyone asks how is Shivaansh. He asks Mannat to come with him. She goes and gets shocked. After few days, Nani asks Shivaansh to have breakfast. Shivaansh says finally, I got a sensible script. Avi and Khanna talk about work. Nani says enough now. Shivaansh asks where is the boss. Mannat comes and scolds him with love.
Avi says Shivaansh is fit now, we are thinking to do action movies now. Mannat asks Shivaansh to come for breakfast. Shivaansh says you came on right time, they are pressurizing me with work. She says I know you, and them also, come with me, you remember you have a checkup due today. He says I have to go for imp meeting. She says we have to go to beach for a walk. He says I can do exercise in my personal gym. He gives her the milk drink. He says I can't go to the beach as my hairstyle will spoil. She says doctor said fresh air is necessary. He takes a deep breath and jokes. Munni comes and hugs Shivaansh. She calls him hero and says he nabbed the bad man, he is my hero. Mannat says you want to steal my sister. Radhika asks Mannat to help her choose her dress. Shivaansh asks who is stealing my sister now. Shivani says I m on your side, I want your credit card, I don't need to flatter for it. He gives the card. Dhruv asks why. Shivani says I m going to get some dresses. Shivaansh asks her to get some pink dresses for Mannat. They tease Shivaansh. He says my memory is very sharp. Shivani asks what's my fav color. Shivaansh doesn't know. Khanna says a husband should be like him. Shivaansh says I m going to drop Mannat to school. Munni says Munni, not Mannat. They laugh. He says yes, I said Munni. Nani says Shivaansh changed a lot. Sahil smiles.
The girl says you are the biggest star, I m getting a chance to do my first dance number with you, its a big chance for me, I have the track, lets practice. She plays the song and dances. She says I can't do it alone, come. They dance. Mannat comes and thinks who is she, she is falling in his arms. He sees Mannat.
Shivaansh introduces Alisha to Mannat. He says we were just practicing dance. Mannat asks why are you giving me an explanation. He says no, I m just saying. She says no need to say. She goes. Sahil asks what happened to her. Shivaansh says I don't know. Mannat stays angry and throws the vegetables to vent out frustration. Khanna comes there. She adds chilli in the veg salad. He asks her to see what did she do. She gets worried and says I was making salad for Sir, so much chilli… I ruined it. Khanna says its fine, I will take the food, don't worry. He goes. Mannat says I will also come with you. She gets angry seeing Shivaansh with Alisha. Khanna sees her and asks Shivaansh to have salad. Alisha says let us practice for more time. Mannat asks Shivaansh to wash his hands. He asks why are you getting hyper. She says no. She asks Alisha to go, Shivaansh needs rest. He says I m fine. She asks Khanna to take Alisha. She pushes Shivaansh on the bed and asks him to take rest. They have an eyelock. Jaanejaan….plays…. He asks shall I ask you something, why do you look so angry. She says nothing. He says you were behaving like a child with Alisha.
She asks him to stay away from Alisha, her intentions aren't good. She goes when Sahil comes. He says I hope I didn't disturb you, did you see the property papers which I left here. Shivaansh says I will see it. Sahil asks did you check the hotel blueprints. Shivaansh says yes, Mannat suggested me about it. Sahil says nice, you are discussing business with her, she is your wife. Shivaansh says you know in which situation we got married. Sahil asks don't you love her. Shivaansh asks what, no, there is nothing like that. Sahil asks why are you still in this marriage, if you don't love her, this marriage wasn't intended, we are aware of this, the world doesn't know, you are still married to her, you are a guy, superstar, you have many choices, what about Mannat, you will find love and marry someone, what about Mannat's future, free her from this meaningless marriage, so that even she lives her life, she settles in life, think about it, there is no hurry, tell me about it, I have best divorce lawyers, check the papers, okay. He goes. He goes and talks to someone. He says I won't leave you mid way, Shivaansh is fine, its time to take the next step now.
Nani asks Dhruv to go office with Sahil and give invitation to everyone. Mannat asks why all these arrangements. Nani says its Shivaye and Anika's death anniversary after two days, we have a puja at home and invite all the workers, I always keep telling you about Shivaye and Anika, you didn't tell about your parents. Mannat says when I was born, my mum passed away, when I was too small, my dad abandoned me and didn't return. Nani says its destiny, what was your dad's name. Mannat says Pramod Khurana, he used to work in some factory. Sahil gets shocked and asks her again. Shivaansh asks do you know her dad. Sahil says no. Shivaansh likes his vintage watch. Nani says I gifted a similar watch to Shivaansh many years ago. Sahil recalls stealing Shivaye's watch. He says Shivaye gifted this watch to me, that's why I have kept it safe.
Shivaansh sees Mannat getting upset. He goes to Mannat and asks what are you making. She says halwa. He asks what's the occasion. She says I make something sweet when bitter memories spoil my mood. He says you are talking about your parents' discussion, I understand your pain, you can share your pain with me, I m a really good listener. He eats the halwa and likes it. She thinks we were defamed, my dad did something, what I don't know, but people still taunt me about him. She thinks of Shivaansh and smiles. Shivaansh holds her hand when she slips. He asks what happened. She says I liked your dance and was trying your step. He says this is how its done. They dance. Tum se hi….plays…. He recalls Sahil's words. He gets away and says sorry. She asks why. He says this is wrong, our dance and closeness is ridiculous, you know nothing can happen between us, if you are not my wife, why do we pretend, Sahil is right, we must file for a divorce. She gets shocked. He says you have your long life ahead, how can you stay in this unwanted relation. She says I don't want to talk, go and sleep. He says you always worry for me. She says why shouldn't I worry, I m your wife.
He looks at her. He rests and thinks this relation has no destination, I should free Mannat, why do I get scared thinking of her leaving. He acts to be sleeping when she sees him. She thinks why did I get angry when he said about divorce, why did I get jealous seeing him with Alisha, how could I say that I m his wife, knowing he doesn't regard me his wife. She sleeps. He gets disturbed and recalls someone shooting Shivaye. He shouts Papa and wakes up. Mannat asks what happened, are you okay. He says that murderer… She says maybe it was a bad dream, have water, you are fine, I m with you. He says no, I heard a strange sound for the first time. She says I read that you were with your dad when …. He says when he got murdered.
Follow Us Social
Facebook Fans Zone: @365trendies
Twitter Fans Zone: @365trendiesNG
Instagram Page: @365trendies
What do you think about this post?
Get More Updates via Twitter and Facebook
[TEXT ADS] UPLOAD YOUR SONG ON ITUNES & 150+ STORES 100% ROYALITIES