Promised Love – Tuesday Update (6 April 2021) – Glow Tv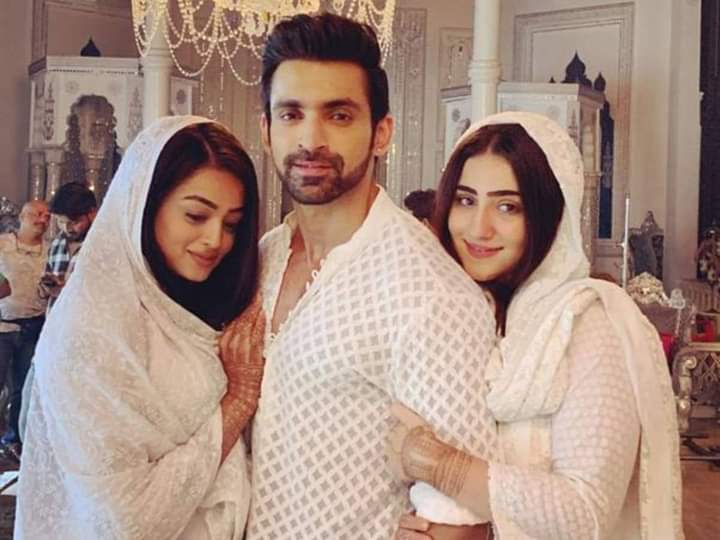 Promised Love Update 6 April 2021: Shayra asks Bahu begum Pasa from Razia and asks why is she so shocked, says I am asking my rights. Azaan asks if she knows what is she asking and says it is not a toy, bahu begum Pasa. Razia is shocked and asks Shayra, what happened to her. Shayra says everyone is doing what they think right and tells that she doesn't think that she is asking anything wrong. She says you are ready to lose a daughter, but not the Pasa. Razia says I am ready to give Pasa and calls Lawyer. Azaan is shocked and asks Razia to think again. The lawyer brings the Papers. Razia and Shayra sign on the papers. Mashuqa says, bahu begum…Razia says just call me Razia begum and handovers Pasa to Shayra along with the property papers.
Shayra says sorry and tells that she is saying sorry for her doings which she will do now. She turns to Surayya and gives the papers to her. Qazala snatches papers from her hands and checks. She thanks the lawyer and tells that you did just as I said. Azaan asks what is happening. Surayya tells that Shayra has named Pasa and all the property on Qazala's name.
Qazala announces herself as bahu begum and tells that the papers are signed by Shayra and Razia. She tells Surayya that Shayra and Razia are both fools, not to read the papers. She tells that she has a 20 years long desire to be fulfilled and is about to slap Razia, but Azaan and Shayra hold her hand. Qazala gets angry and tells that she got everything whatever her husband snatched from her and her son 20 years back. She says you had kicked me and my son out of the house, now I will kick you and your son and will make you beg. She pushes them and sits. Surayya and Qazala rejoice. Shayra claps and tells that her game is old just like her and I knew everything.
Qazala says you knew everything and let everything on my name. Just then Noor burns the papers which is in Qazala's hand. Qazala gets angry and calls her Servant's daughter, asking what she did? Noor says everyone will claps for your foolishness here. Shayra says we understood your cleverness, but agreed with your sayings to bring your real face infront of Azaan. She tells Azaan that Aladdin had collided with her car and shows the pictures. Noor tells that it was Dadi Ammi's planning, Aladdin collided with her car intentionally. Shayra tells Qazala that she understood when she dug the grave for Aladdin and the shovel was inside the car. She says you agreed to bury him and knew that he was alive. Azaan asks why didn't you tell me anything. Razia says you was not ready to hear anything against Ammi. Shayra says we want to bring her true face infront of you. Qazala says what truth, this is my grand son. Just then Khalid brings burqa-clad Aladdin and pushes him on floor.
Noor tells Azaan that she saw this burqa-clad woman in the haveli and when she insisted to see her face, Qazala and Surayya haven't let her see her face. She says she took Khalid's help and he caught him. The burqa clad woman is actually Aladdin. Aladdin tells that whatever he did was because of dadi ammi's sayings. Qazala scolds him and tells Azaan that she was greedy about property, but didn't do anything with Shayra. Khalid shows the video to Azaan in which Qazala is scolding Surayya for calling Aladdin home.
Azaan watching the video in which Qazala asking Aladdin to go until she gets bahu begum's Pasa. Noor tells that she has recorded them and then showed the video to Shayra. Shayra tells that this was not possible without Khalid's help. Surayya is about to slap Khalid. Razia holds her hand and stops her, warning her not to touch him. Khalid says badi ammi gave you many chances, but you didn't get better. He says I don't want a bad life and want to be good. He says he wants to be a good son of Razia and for that he has become bad son of Surayya (expose her). Shayra says we took Ammi's help. Razia says if you had not tell me then also I would have understand that you will not do anything against me. Shayra thanks her. Qazala tells that Razia and Shayra got together. She tells that whatever is done is done by Surayya and Asgar. Surayya says Asgar is not in the city and says whatever she did was because of Qazala's sayings, she got the divorce papers changed, had locked Razia in the box, was behind the hotel incident too.
She asks Aladdin to say. Aladdin says yes, everything is true, even that Police officer was fake, who told you that the road is blocked. Surayya says even that kotha clothes was sent to Noor by Qazala and that black ink balloon which Shayra had thrown on Noor was conspired by Qazala. She asks Aladdin to say else will be sent to jail. Aladdin says yes and tells that he had thrown stone on Noor's head so that Pasa breaks and she gets blamed. Qazala asks Aladdin to stop it. Azaan shouts asking Qazala to stop and tells that he is ashamed to call her Dadi. He says you have made fun of relations. He says I thought that injustice had happened to you and wanted to give you justice and make everything fine between Ammi and you, but you tried to break the house. He says Noor and Shayra tried to make him understand about her, but he didn't listen to them as he trusted her immensely. Qazala says Azaan beta…Azaan asks her not to call him beta and not to touch him. He says I have no relation with you and asks her to leave the house. Razia asks Dilruba and Mashuqa to bring Asgar and Surayya's stuff along with Qazala's stuff. Surayya says I helped you.
Razia says you helped yourself, but supported Qazala in her conspiracy. She asks them to leave before she calls Police. She says I will name your part of share to Bhopal's charitable trust. Surayya says I will see Khalid. Razia tells that Khalid got better and changed himself, today she is proud of him and can proudly say that he is her son. Surayya picks her stuff and starts leaving. Qazala also picks her stuff and asks Razia and others not to be so happy, says I am leaving from this house, but not from your lives. She tells that she will never leave them. Shayra asks her not to worry for their happiness. Noor says once you all go then happiness and peace will be back again in this house. Qazala says lets see. Razia says just watch. Qazala leaves from the house with her stuff.After few weeks: Shayra is in her room and gets ready. Razia calls her. Shayra says I am coming and comes out of her room running and collides with Noor. Noor asks her to bring badi ammi's bag and says please. Shayra goes inside. Noor comes outside and sits in the car. Shayra comes back to room and thinks where is the bag? Noor asks Razia to leave Shayra and Azaan alone if she wants to see Shezaan and Aayra. Mashuqa and Dilruba get excited. Razia asks who are they? Noor says they are Shayra and Azaan's kids. Shayra calls Noor. Noor says we will not pick the call. Shayra thinks why Noor is not picking the call and calls Azaan. She sees the decorated pool side and calls Azaan. Azaan comes out of the pool. Shayra asks what is he doing in the pool and says you went to office. She tells that Ammi left her at home, Dilruba and Mashuqa are not in the house and Noor not picking her call. She asks him to come and says we need to go to orphanage. Azaan says wearing one earring. Shayra says may be, it fell somewhere. Azaan shows her earrings and asks her to come to him. She tries to get her phone and he pulls her inside the pool. He gets romantic while the song hum tum plays….they consummate their marriage.