Ring Of Fire – Friday Update (16 April 2021) – Zee World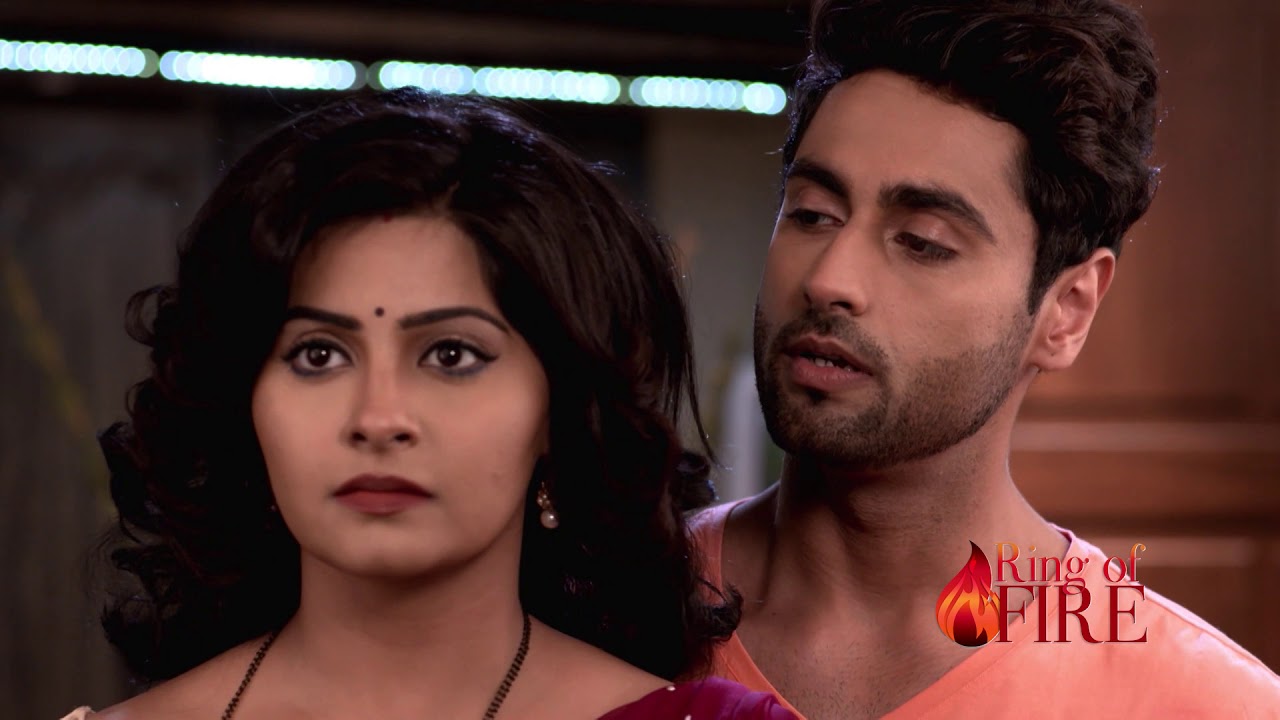 Ring of fire Update 16 April 2021: Shristi informs her plan of celebrating Vishu's birthday and tells Anurag like his memory returned on his birthday, even Vishu's memory will return. Anurag jokes his memory returned after Ragini scolded him. She asks when did she scold him. He says she does a lot. Shristi asks them to stop fighting and says each family member will do a task each, Revathi will cook Vishu's favorite food, Dulari and Divya will dance, Daadi will rest, Brij will decorate house, Ragini will prepare birthday cook. Revathi asks what about her. She says she will see if everyone are doing their duty. After sometime, Dulari practices dance on Bhojpuri song and stops seeing Baiju. Baiju thinks if she has gone mad.
Ragini blows balloons in her room. Anurag stops her and says she cannot blow balloon in pregnancy. She asks him to blow then. He blows and hurts his lip, acts and shouts in pain. She asks what happened, which medicine to apply. He asks to kiss his lips. Dulari passes by and seeing their romance walks in early waiting for their kiss. Ragini kisses Anurag's cheek. Anurag sees Dulari and shouts. Ragini also shouts and asks what is Dulari doing here. Dulari asks them to continue, it is like English movie. They both shout at her to go. She runs away closing door.
Shristi returns to Baiju's room with almonds and says she heard Vyjayanti amma telling he likes almonds before sleeping, she knows what he must be feeling, but she knows he is her best friend now and understands her situation.
He says he is happy she understands him. She says he is on one side and other side Vishu, she does not know what to do. He says he can understand her condition.At 12 midnight, whole family wishes happy birthday to Vishu and give him gifts. Dulari says surprise gift…Shristi stops her. Revathi says let Vishu and Shristi stay together and take whole family out. Vishu asks Shristi that whole family gave her gift, what about her gift. He gets romantic, but she gets tense. He backs off and says he is joking and is waiting for his memory to return.
Anurag reads newspaper for Vikral. Vikral shakes his hand. Anurag holds it and smiles. Ragini enters and feeds juice to Vikral and thanks Anurag for taking care of Vikral. Anurag says it is also his duty. Ragini says she wrote a letter for him and each word is true, she truly loves him and wants to die in his arms. He says she will be with him forever. Their romance continues.Baiju decorates house house with balloons. Shirsti walks down. He gets mesmerized with her beauty and imagines dancing with her on Pehla nasha…song. Shristi slips and he holds her….
Baiju holds Shristi when she slips. Vishu walks in calling Shristt. She part ways from Baiju. Vishu asks what he should wear, he is confused, she knows what he used to wear. She says used to go to temple with Daadi wearing kurta. He asks to come and help her. He says he does not have kurta. She says he has many clothes in his cupboard. He walks towards room. Shristi then passes by holding clothes. Vishu stops her and picks yellow shirt. Shristi reminisces it is Baiju's and says it is not his, must be Anurag's. He takes another shirt and removes his T-shirt. She turns in shy. He says she is his wife, then why she is shying. He wears shirt and says he will turn it in Vishu's style and tries to tear it. She says he is going to temple, so he should not tear it. He says then Shanky cancel and Vishu is on. He then gives her gift. She opens it and finds key bunch. He asks if it is fine. She says yes and walks to her room. Baiju walks in and gives her gift. she opens it and sees key bunch again. He promises he bought it from his hard earned money. Shristi shows Vishu's gift and says Vishu gifted this and she is in dilemma.
Baiju asks to wear Vishu's gift.Dulari and Divya practice dance. Divya scolds Dulari to dance properly. Parag walks in and says he will teach her dance as he is a film maker. His flirting starts and suggests saadi ke fall sa song.. He then walks to Vikral's room and says seeing Ragini holding a sari asks if jijaji gifted her, when she will go wearing this sari in front of jijaji, he will be bold. She scolds not to talk nonsense in front of babuji. She gets Select's call that he caught traitor who tried to kill Vikral. She angrily leaves home and meets Select. Select says traitor is in van. Ragini pulls hhim out and is shocked to see party worker, shouts she knows it is him and points gun on him. Traitor's men attack Select and point gun at Ragini.
At home, Vishu wears shirt and asks Shristi to fix button. She does. Baiju gets jealous seeing that. Parag flirts with Diya again. Revathi's friends come for party and says they saw Vishu with Daadi, is it true he returned. Revathi says by god's grace and walks aside to attend others. Ladies discuss Shristi has 2 husbands now, whom she will choose, she will chose Vishu and not Baiju. Baiju gets jealous hearing that..
Tiwari points gun at Ragini and says he made himself scapegoat to trap Ragini as without killing Ragini, he cannot kill Vikral completely. Ragini says he is doing a mistake as he will kill 2 lives. Tiwari says he will kill both her and her child as they will both create problem for him in the future. She signals select to pick gun in front of him. He picks gun and shouts bibiji..She snatches gun from Tiwari and says get ready to die. Tiwari throws soil on her and escapes with his team. Ragini shouts where did he go. Select says that side and they all run.
Vishu's wedding party starts. Baiju thinks if Shristi will wear his gifted earrings or Vishus. Vishu sees Shristi wearing different earrings and asks why did not she wear his gifted earring. She says that was not matching with her sari. Baiju gets happy seeing Shristi wearing his gifted earrings. Neighbor women taunt Shristi has 2 mother-in-laws, whom she will select now. Vishu asks what they mean. Dulari says Revathi considers Shristi as daughter. Women ask what about husbands, Shristi has 2 husbands. Baiju says they came here uninvited and should go and sit in a corner for free cold drinks. Revathi asks Dulari and Divya to bring cake. Vishu cuts cake and feeds Shristi. She hesitanlty eats it. He asks her to feed him now. She hesitates. Women comment again Shristi is choosing old husband compared to new one. Divya throws cool drinks on woman and asks her to and change.
Dulari hosts event and invites Divya and Parag for dance. They both dance on Sari ke fallsaa..song.. Dulari then dances on Ravi Kishen's son. Brij informs Vishu that Vishu is Ravi Kishen's fan and they had invited Ravi Kishen during his last birthday. Vidhvan shows Vishu's inventions and says he was technical savvy. Vishu collapses. Family gets worried. He wakes up and says he feels suffocated and wants to rest.Tiwari runs in and hides. Ragini walks in shooting bullets and shouts where did Tiwari go. Vikral points direction. Ragini pulls him out and trashes him. Tiwari pleads Anurag to save him. Anurag stops Ragini.
Ragini shouts her father's condition is because of Tiwari. Anurag asks this is what she promised him. Women start their drama and yell Ragini is a big goon and she is following her father's steps. Ragini confronts woman. Woman continues yelling. Shristi warns to dare not badmouth about her jethani. Woman asks what about her, she is enjoying 2 husbands, she has to choose one, else society will not spare her. Vishu stands shocked hearing Baiju is also Shristi's husband.
Baiju warns yelling women to get out of here, else he will kick them out. Women yell Vishu does not know already someone has invaded his private space and leave. Vishu is shocked and says Baiju, Shristi second marriage, asks Anurag and Ragini why did they hide such a big secret, they all betrayed him.
He reminisces Baiju lying that he is Shristi's best friend and asks why did he lie. He shouts his whole family betrayed him and says even Shristi did. He says he deserved this as he trusted Shristi, she must be habitual betrayer, why did she come in his life when he had to betray him, he cannot trust anyone. He continues venting out his anger and walks to his room saying he will not stay here.
Ragini takes Vikral to his room and says she cannot tolerate anyone insulting him. Anurag comes calling her. She walks behind him. Anurag reminisces women yelling that Ragini will make her child a big goon like her, she is illiterate and even her son will be illiterate. Ragini says misterji. Anurag says she does not care what he thinks and does whatever she wants, he called her many times, but she did not pick his call once. She says she was at gun point. He says she likes fights and thinks herself as Jahnsi ki rani. She says she is not even closer to great queen, but she cannot see her father's insult. Anurag says she is just her father's daughter and nothing else. She says she does not know what to do, but knows her child's papa will protect her always, she is not ashamed that she is illiterate and is trying her best to change, but she tries to get rid of her problems, she knows her misterji will support her always.
Vishu packs his bags. Revathii enters and cries if he will leave his mother alone. He asks if she really is his mother, she lied him and supported lier Shristi, he will not stay here. Revathi pleads to not go, but he picks his bag and walks down. She pleads ammaji to stop him. Vishu says he can understand their situation of getting married Shristi to Baiju to protect her, they are right in way, but can they imagine how much he is feeling weird, he really needs sometime alone and walks away. Vidhvan walks behind her. Revathi cries she cannot stay without Vishu.
Parag vents out his anger in front of Ragini that if this was not her susural, he would have punished yelling women. Ragini says even she was boiling, but had to control thinking of Babuji's dignity, etc.Revathi cries holding Vishu's shirt. Vishu returns calling her maa. She asks if he returned or if she is dreaming. He says he could not go away from her, he does not have right to trouble his family, so he will stay here and find solution for his family's problems. He wipes her tears and leans on her lap. Mother and son's bonding continue.
Follow Us Social
Facebook Fans Zone: @365trendies
Twitter Fans Zone: @365trendiesNG
Instagram Page: @365trendies
What do you think about this post?
Get More Updates via Twitter and Facebook
[TEXT ADS] UPLOAD YOUR SONG ON ITUNES & 150+ STORES 100% ROYALITIES