Ring Of Fire – Thursday Update (13 May 2021) – Zee World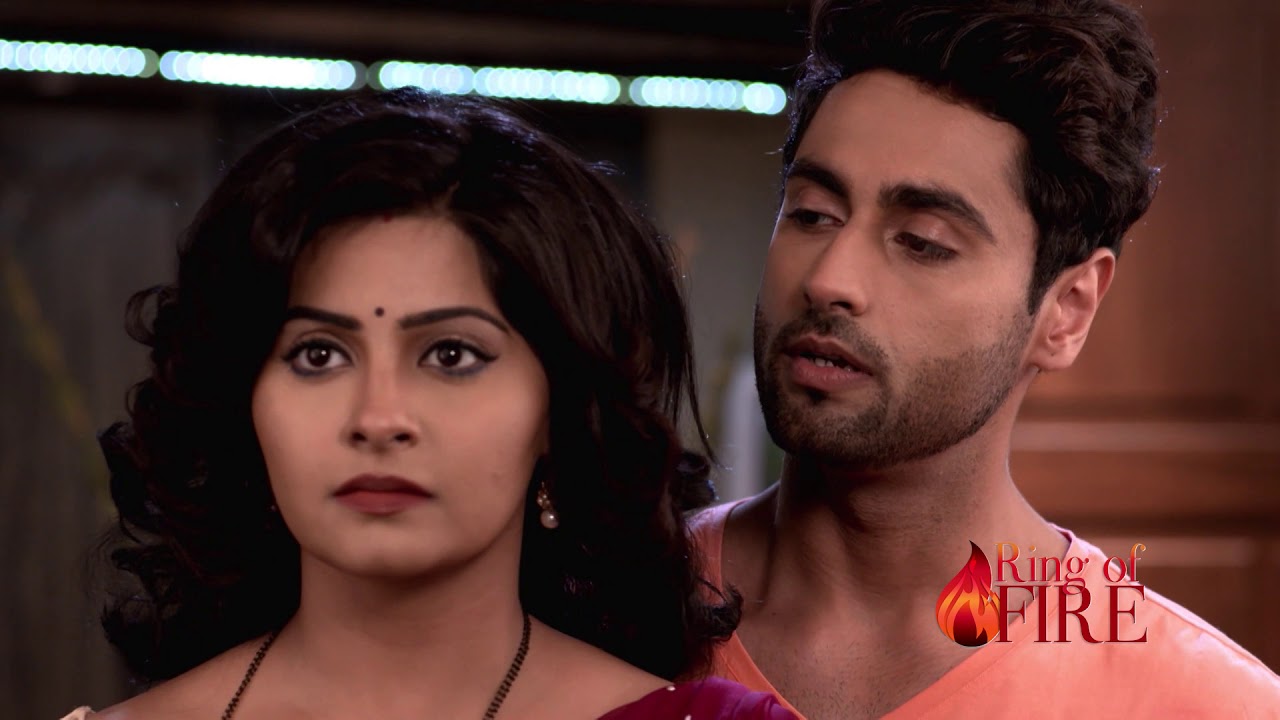 Ring of fire 13 May 2021: Agni picks water glass. Sakshi snatches it. Agni confronts and takes it back. Sakshi as usual continues yelling. Agni tries to fix anklet. Sakshi snatches it and says it is daadi's. Agni says daadi gifted it to her. Sakshi snatches it and breaks it. Agni scolds if she does not value people and emotions. Sakshi says not for her and if she cannot get what she wants, she will not let Agni also to get it. She walks out to speak to daadi/Revathi.
Kishan goes to his mother/badki and says she is angry on him for not accepting her choice, but he loves someone else. He shows his childhood photos and reminds how much she loves him. He says he got her whatever he liked and similarly Yashi maa did. He feels special when he is around Agni and would be happy if he marries her but only with his mother's consent. He leaves while Badki sits thinking on her wheelchair.
Yashi sees Daadi searching something and asks Chachi what daadi is searching. Daadi says something priceless. Yashi gets tensed and asks what is it so priceless. Daadi says her smile and says whatever the situation be, she should keep smiling and goes to Badki's room to make her smile.Sakshi walks into Revathi daadi's room. Daadi feels guilty for misunderstanding and trying to play with her feelings. Sakshi calms down daadi and jokes she looks beautifuly when she gets shy, if daada used to call her gulbadan.
Agni walks into Kishan's room and asks if he called her. She sees decoration and I love you written. Kishan enters. Agni asks what is all this, who gave him write to decide about her life, what he knows about her. He says he does not have any right, but he knows she is kind hearted, forgives her constables' mistakes, protects her station jurisdiction, worried about Daadi and takes care of daadi, very kind hearted, he likes her for that.Agni returns to her room confused about her emotions for Kishan. Daadi enters and consoles her and says Kishan is a good boy who is worried for his family, but openly expressed his feelings for Agni, her father had similar nature. She smiles and asks who is perfect couple according to her. She says her parents and chach-chachi, says Anurag was London return and Ragini zilla goon, they used to fight a log, but when they fell into love. Agni continues listening to daadi.
Daadi asks Agni's opinion about Kishan. Agni says Kishan is a good educated boy, smart, well cultured, so she befriended him, nothing else. Daadi asks if she is sure or hiding h er feelings. Agni says nothing like that. Daadi says okay and hugs Agni. Sakshi gets jealous seeing that and walks into Kishan's room to brainwash him. Kishan sits on his bed sadly. Sakshi looks at room's decoration and says she now realized how a man becomes devdas, offers him apple. He asks if she is joking on him. She says love is just infatuation. He asks if she does not have heart. She says yes but to pump blood. He says she is taunting him. She says he spent a lot on decoration to propose Agni, but failed. He requests her to help him convince Agni. Sakshi thinks Kishan saved Daaadi, so she should help him so that she can repay his favor and even get rid of Agni.
Sakshi writes down mission on board and gives Kishan moral gyaan how to convince Agni. She says 1st give her a rose and propose, next give herr halwa as she loves halwa with lots of raisins, if even that fails, write a love letter for her and give it to her directly. Next morning, when Agni gets ready for work and walks down, Kishan walks behind her holding rose and falls down. Agni turns back and smiles and walks way. Kishan gets disappointed. In the evening, Kishan serves halwa to Agni with lots of rains. Agni says it looks like world's best halwa, hope it tastes good also, she will give it to daadi as she is allergic to raisins. Kishan gets disappointed and reminisces Sakshi's last plan to write a letter for Agni. He keeps letter in front of Agni when she is praying in home temple. Letter burns in lamp fire.
Kishan asks Sakshi to give more ideas. Sakshi says she does not have any more ideas. He insists. She gives him idea to send some goons and act as helping Agni. He says Agni is daring officer and does not need anyone's help. She says if he is afraid, then he should forget Agni. He says he will not give up. She suggests to agree to her idea then.Next morning, Sakshi sees juice on table and picks glass. Yashi says it is for Agni as she is getting late for work, but she willl prepare Sakshi's favorite juice once Agni leaves. Sakshi says watermelon juice. Badki enters and yells Yashi should have prepared 2 glasses. Sakshi says that is okay ad silently drops medicine in glass. Agni drinks juice and leaves for work. Sakshi thinks her work is done.
Agni gets down wearing uniform. Yashi gives her juice and asks if her jeep is repaired now. She says no, shew has to send it to garage. Yashi asks Kishan to drop Agni to her police station. Agni says it is okay, she will call Mukhri. Kishan says he cannot disobey his mother and takes Agni in his car. He plays romantic songs and says he loves them. Agni fumes how made these songs. Goons attack them. Kishan thinks they are Sakshi's sent fake goons and asks to be gentle. Goon pushes him away and pulls Agni out.Sakshi at home waits thinking her fake goons would have reached by now. She calls Kishan who says her goons have reached and are acting as real goons. Her aide Senti informs that the man he hired did not reach at all as his wife is in labor pains.
Sakshi realizes that real goons have attacked them and gets tensed.Goons attack Agni and she trashes a few. She then realizes they are Lucknow goons whom she arrested before. A few of them holds her and Kishan and take them to godown and tie them. Boss says Agni trashed him brutally, now it is her turn. He asks to get beetle cutter and says he will cut Agni's each finger.
Revathi daadi walks in and asks Sakshi what happened. Sakshi says Senti's cat ran away, so he needs help, but she is going to attend emergency case first. Family thinks Kishan would have dropped Agni by now. Mukhri enters and asks why did not Agni madam reach police station yet. He gets message on walkie that a car is found secluded, looks like kidnap case. Sakshi says she is getting late and leaves with Senti. Senti takes her to a spot where fake goons were to attack Agni and Kishan.Goon continues torturing Agni and asks which finger to cut first. Kishan asks to cut the other one and confuses goon. Agni realizes he is trying to divert goons' attention. Kishan frees himself and trashes goons, but boss points gun on him. He confesses his love for Agni and says he is ready to die for her. Boss says he will fulfill his wish and is about to shoot when Sakshi enters and points gun on goon. Kishan closing his eyes continues his jokergiri, opens eyes and sees Sakshi pointing gun on goon. He takes gun from goon. Goons attack them. They all 3 trash goons. Kishan's commentary continues.
Follow Us Social
Facebook Fans Zone: @365trendies
Twitter Fans Zone: @365trendiesNG
Instagram Page: @365trendies
What do you think about this post?
Get More Updates via Twitter and Facebook
[TEXT ADS] UPLOAD YOUR SONG ON ITUNES & 150+ STORES 100% ROYALITIES