Strange Love – Monday Update (10 May 2021) – Star Life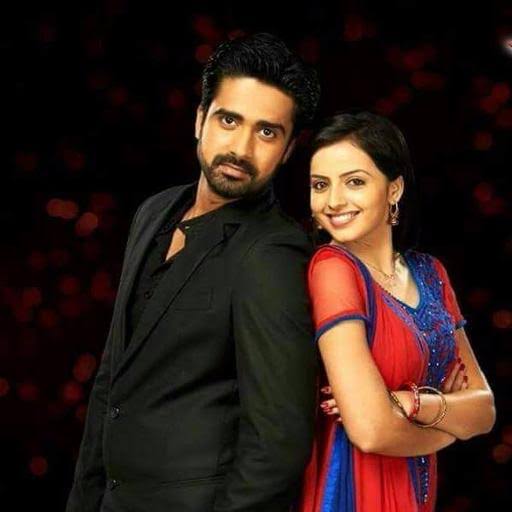 Strange Love 10 May 2021: starts with Astha coming to Shlok and showing him the newspaper. She asks him whats this. Shlok looks at the paper and is shocked. She says you did not do this right, in the past two days, I thought you changed, but I was wrong. She says I thought you have some goodness, so I was going to forgive you but not now, thanks you gave me the biggest reason to hate you, there can't be any relation between us than hatred, I hate you more than you hate me, I will never forget to hate you. She says you might be happy with this, you finally did it.
She says I m not like you, I lied to you to help someone, you wanted me to come with you, then why did you make my dad arrested. He says I did not do this, believe me if you can. She says one more lie, how can I trust you, if you did not do this, then who did it, my dad is facing this insult because of you, I won't forgive you, I don't know how my family is, I have to talk to them.
Shlok says how can this be, I asked Suresh not to do this, then how can it be. Astha cries and goes to try to make a call at home. She stops some men and asks for their phone. They laugh seeing her. Astha is trying to make the call. They come to her looking at her with a wrong motive. They tease her but she does not notice their evil sight. Shlok comes and throws stones on them and they flee. Astha looks at Shlok and is still disappointed. Astha pushes him and says you did not become a good husband, why are you trying to become a Lord, why are you helping me, why did you do this with my dad. Shlok shouts on her and says you have come with me and now you will return home with me only. She says no way, who are you to me now, you have broken all the relations with me. She throws the phone as its useless for her.
She cries hugging the newspaper. Shlok looks at her. Ajju and Kalindi are at home thinking about Avdhoot. The door bell rings. Its Avdhoot. Kalindi is happy to see him and call Ajju. Kalindi hugs him. Ajju asks how are you son. She thanks the Bappa for bringing him back home. Avdhoot says Niranjan has saved me today, he has done a big favor. He says it was very tough time in jail. They welcome him inside. Ajju asks are you fine. Kalindi brings water for him. She says the Bappa always do the best we can't forget Niranjan's favor, Astha is lucky to go in such a house where they care about others. Shlok stops Astha. Astha says I don't want to see your face. He says fine, kill me if you wish. She says you have made my life a joke. He says I will go, but you are with me now, you are my responsibility. She says your revenge is over, now let me go, if anything happens to my dad, I won't leave you and will ruin you in every possible way. Shlok holds her face and sees a car and asks for lift. She says I won't come with you. He says I told you, come with me. The car leaves.
Astha says the car went because of you.
Shlok says even I have to go home, Niranjan is waiting for me, I have to reach before evening. Astha says I hate that moment when I met you, loved you, stepped in your house, I m getting punished because of you. She goes ahead. He follows her. Anjali is doing Niranjan's birthday arrangements. The pandit asks where is Niranjan. Varad says he might be coming. Anjali says like every year, we will give away things equal to his weight to the poor. jaya comes and runs to meet Anjali. She greets Anjali well and says I came to be a part of your happiness. She says I thought to come and congratulate Niranjan. Anjali looks at Sojal. jaya asks where is Niranjan. Sojal says if Niranjan is not able to free Avdhoot then. Niranjan comes and says did this happen till now. He tells Anjali that Avdhoot got bail. Anjali says I knew this, he would be out soon, as nothing is impossible for you.
She says come, its time for the ritual. Niranjan sees jaya and welcomes her.
He says my happiness got doubled as Avdhoot got bail. He asks Anjali did you talk to Shlok. Anjali says no. He says he will come, he is my son. Shlok and Astha are in a car. Astha is angry on him. She asks a co passenger for a phone saying I need to make an urgent call. The man gives her the phone. She calls home but could not get connected. She returns the phone. Shlok asks when will we reach Pune. Someone says one hour more. Shlok says I have to reach home before night. Astha thinks he is so shameless that he is so eager to go home even after doing this.
Niranjan sits in the weight balance. He is equated with silver items etc. Everyone looks on. Anjali puts her bangles too. Niranjan smiles as its equal now. Sojal stops jaya from doing anything silly. Sojal thinks such costly bangles will go to poor people now, she would have given it to me. Astha and Shlok are on the way. Astha slips as the car is driving fast. Shlok holds her. Khuda……………… plays…………….
Niranjan keeps money and takes Anjali's bangles. He says these are yours and suits you. He makes her wear them. He says I m happy seeing your Shraddha. Anjali says you are my everything, bangles can be made anytime. He says go to Anaath Ashram and do your work, like every year, distribute clothes and money. Anjali says sure. He says if we don't think about them, then who will think. She says yes, I have invited everyone, this time your birthday will be very much memorable.
He says it will be when you gift me those two things, you know it. She looks at him. He smiles and asks will you able to give me those. Anjali says I will try my best to gift you those two things till evening. He says I know you will keep your words. He leaves. Astha feels cold and tries to shut the window. Shlok helps her. She looks at him with anger.
Anjali seeing her parents at the ashram and not talking to them. Her parents are hurt by her behavior. Anjali talks to the ashram lady Niloufer and asks her to send her parents out of the ashram. She says make them out, else I will have to shut this ashram. Niloufer is shocked. Suman aunty hears this. Her parents are talking about her. Her dad says she has nothing in her heart for us. Suman aunty comes and says yes she wants you both to be out of here. Niloufer says we won't make them go from here, you can make all of us go, not them. Anjali's mum comes and says don't trouble everyone because of us. Her parents leave from the ashram meeting and hugging everyone. Anjali looks on. Anjali stops them and asks them to sign on some papers stating they are leaving by their wish. Her dad signs the papers and keeps the gifts Anjali gave and leaves.
Shlok and Astha are dropped at Pune. They look at each other. He says trust me, I did not do anything, you know me, I would have said yes if I did it, even my dad's reputation is linked to your dad, think why will I did this, I was with you, how could I do it. Astha argues with him and does not believe him. She says now we don't have any relation between us, you have ended every reason for me to be connected with you, so I m breaking every relation with you, from today our ways are different because now I can't bear your worst acts. She cries and leaves in anger. Khwab vo pyara aisa hai tuta…………………. plays………………… He looks at her while she walks away from him. He turns and walks in opposite direction. Dil se nikle meri aahein…………… plays………….. he stops and turns to see her. Astha thinks about Shlok's love and hatred. Shlok gets angry that Astha left. Ve Saiyyan…………… plays……… Astha sits somewhere and says I m happy that I became Astha Kirloskar today, but I m sad that Shlok has hurt my dad, I will apologize to my dad and tell him the truth.
Varad talks to someone on phone and says its good you found out who gave the news of Avdhoot's arrest in the media. He says once I come to office, I will see the person who did this. Sojal hears this and is tensed. Varad says Sojal. Sojal asks what should I wear in party tonight. Sojal does not treat Kavya well and Kavya cries. Varad scolds Sojal and asks her to talk to Kavya. Sojal asks him why are you worried, can I help you. He says take care of your child first. She argues with him. Kavya does not like seeing them fight. Varad hugs Kavya and says we are not fighting and takes her with him.
Astha comes home crying and hugs Kalindi. She says you did not tell me anything, after all this happened with dad. Kalindi says how come you are here at this time, and where is Shlok, you went to honeymoon right. Ajju asks is everything fine. Kalindi asks what is it. Astha says actually……….. Avdhoot comes and says Astha. Astha ia happy to see him and goes to hug him. She asks are you fine. He says yes, but why do you look worried. She says I read about you in newspaper. He says that was true but now I m fine. He says don't worry, everything is fine now. Kalindi says yes, don't worry, see your dad is fine and infront of you. She says Niranjan saved him and got him bailed. Avdhoot says yes, Kalindi is right, Niranjan has saved me else I would have been in jail. He says he tried his best to bail me out. Kalindi praises Niranjan and Shlok. Kalindi says I feel today that I was wrong and you were right, your decision to marry Shlok was right, we can't return their favor.
Astha thinks its strange, Niranjan is so good and Shlok is his opposite, how can I tell everyone Shlok's truth. Shlok calls Suresh and scolds him. He asks him to meet him in office and says its my dad's birthday today, it will be late because of you. Anjali comes to Niranjan and says this is your first gift. Niranjan sees it and is happy. He says are you happy. She says if you are happy, then I m happy. He says you have made me much happy today but do you remember about the second gift, and that one is bigger than this one. Anjali says I will try that I can give you the second gift after Astha comes. Niranjan asks Anjali why are you bare footed. She says I m fine. Kaka comes and says don't be adamant, now Niranjan is asking you to stop this. Anjali asks him not to interfere in between. Niranjan says don't be angry on Vinayak.
He says its my command that you won't be barefooted. Anjali says ok. Shlok gets angry on Suresh and says I told you not to do anything till I order you, people will blame me. Who did this, only you and me knew about this. Suresh says its not my mistake. Shlok says I did not wish to send him jail as I knew my dad's respect is linked to him. Shlok says call Shinde and put it on speaker. Suresh calls Shunde and asks who asked you to forward Avdhoot's file. Shinde says you told me. Suresh says why are you lying. Shinde says I got the call from same number. Shinde tells everything. Suresh says trust me, I did not do this, why will I do this. Shlok says if you did not do this, find out, who did it, as I won't leave that guy, because my dad got insulted because of him.
Follow Us Social
Facebook Fans Zone: @365trendies
Twitter Fans Zone: @365trendiesNG
Instagram Page: @365trendies
What do you think about this post?
Get More Updates via Twitter and Facebook
[TEXT ADS] UPLOAD YOUR SONG ON ITUNES & 150+ STORES 100% ROYALITIES