Game Of Love – Monday Update (19 April 2021) – Star Life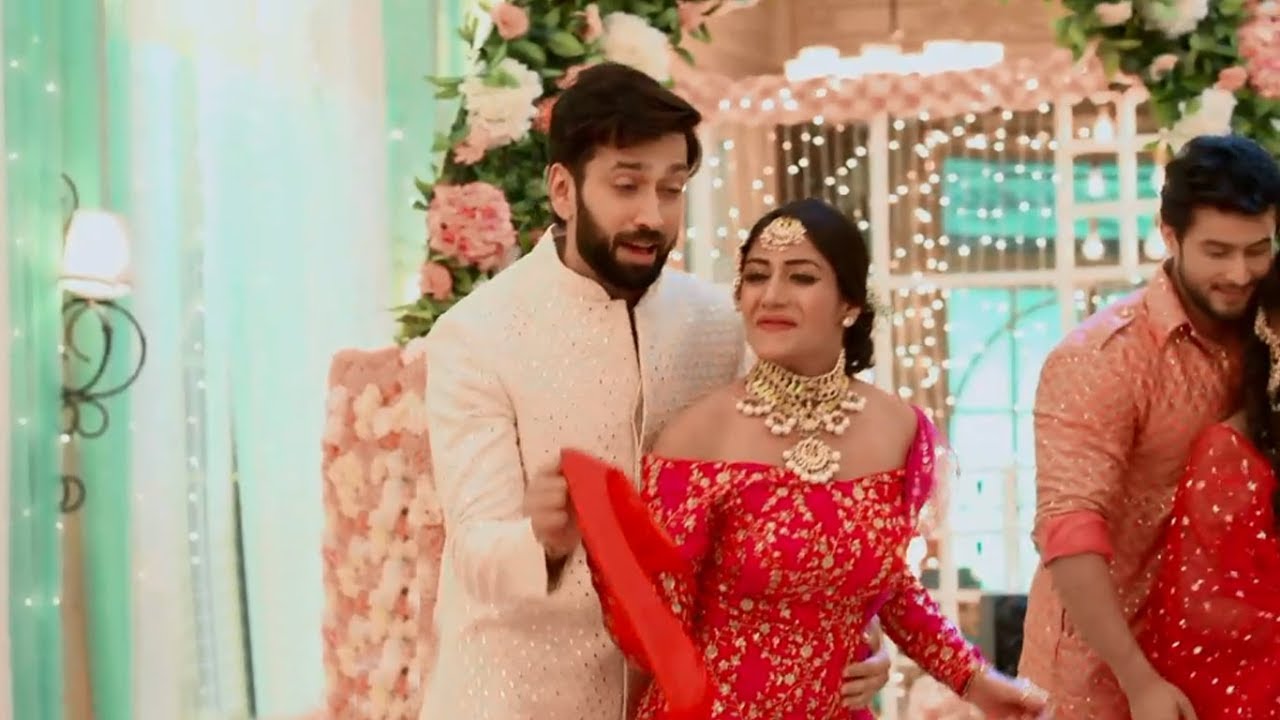 Game Of Love Update 19 April 2021: Shivaansh is on call and asks someone to leave for airport right away. He says I m very happy, just come soon. He ends call and says Shivani is getting married. Dhruv and Radhika get glad. Shivaansh says the groom is from India, everything will happen here, the groom would be coming tomorrow, she is also on the way. Khanna dances happily. Dhruv does shayari. Nai comes and asks what happened. Shivaansh says Shivani is getting married. Nani gets glad and says if Shivaye was here, he would have prepared food, Oru would have helped him, Shivomru were always together. Shivaansh says Shiv, Ra and Ruv are here, if I can't cook, they both can. She laughs. Aditi asks for the case details.
Nana and Gaitonde hand over the file. She asks them to find out the call details of Honey's last call. Gaitonde says it
was SSO's number. She gets thinking. She asks them to just go and find out everything about Honey.They go. She says all the clues lead to Shivaansh, the kidnapped that he staged, and now this murder, he may maintain a clean image, but he is someone else in reality, I will expose his reality. Shivaansh, Radhika and Dhruv get ready to cook. Dhruv jokes. Shivaansh says the shades make me look hot, focus on cooking now. Dhruv and Radhika argue. They cook the food. Zindagi milke….plays…. They have fun in the kitchen and dance. Nani comes to them. She says your lady cop is here to meet you. Dhruv says personal cop… Shivaansh says she is not mine, she is just a cop. Dhruv jokes.
Shivaansh says I m a superstar, and my GF will have to be a superstar. Radhika says superstars can be in any field. Dhruv says even in police. Shivaansh says there is nothing like that. He goes. Radhika says what's going on between them. Nani smiles. Shivaansh goes to see Aditi. He says Nani has my lady cop has come, where is she, there is no one here. He turns and sees Aditi. Nani, Radhika and Dhruv hide and look on. Shivaansh's hand hits the vase. He steps on the broken pieces and walks to Aditi. Radhika says he isn't hurt, look at their chemistry. Aditi says I was trying to contact you since long, you didn't answer the call. He sees Nani, Dhruv and Radhika in the mirror. He thinks they are listening to my talks, I don't want them to know about Honey, I have to handle them.
-*/
He gets joking to answer Aditi. She argues with him. She says I have to talk to you about something imp. Nani says she gives him a lot of attitude. Dhruv calls Nani a cool person. Shivaansh asks Aditi not to repeat, whatever happened at night, I don't want to talk personal things. They ask what personal things. Aditi says I m talking about what happened in new years eve. He says I will check AC and come. They follow. He asks them to just leave. Dhruv says what all were they talking. Aditi says I have to check your phone, Honey made last call to you, you would have seen his missed call. Shivaansh says no, my team manages my phone, Honey didn't call me. She says you don't lie well, I will catch your lies, you staged your kidnapped and played with fans' emotions, you handover phone to me, let me do my duty.
He asks whose number do you want, it won't help you, go and get a warrant, I will like to see how you get my phone. She says you have not seen the real police, let me warn you, its a murder investigation. He says Honey was like my family member, I m not connected with his death, I also want to find out what happened to him, my younger sister is getting married, my other sister's in laws are visiting, my Dadi and Nani are aged, I can't trouble them, just be in your boundaries and do your investigations, I m that great wall around my family to protect them, do anything with me, don't get to my family, don't do anything that would affect my family. Radhika and Dhruv tease Shivaansh and ask why did you attend new year party with Aditi.
Shivaansh says I m doing a film and I m meeting ACP Aditi to do research for the role, the girl who comes in my life will also be a superstar, because only a star can match up to another star. Aditi says Shivaansh is refusing to give his phone without warrant, he is creating troubles. Nandini says no, he is preparing for his sister's wedding, I visited him, we are family friends, Shivani's marriage is fixed, I went to congratulate them, Shivaansh is a nice guy, all his team is like his family, he knows to keep relations, stop treating him like a criminal. Aditi says ask him to stop behaving like a criminal, he has staged his kidnapped. Nandini asks do you have any proof, I have checked his phone, Honey didn't call him. Aditi shows Honey's call list and asks her to check it. Nandini says yes, but how is it possible, do your duty, tell me if you find any leads.
Follow Us Social
Facebook Fans Zone: @365trendies
Twitter Fans Zone: @365trendiesNG
Instagram Page: @365trendies
What do you think about this post?
Get More Updates via Twitter and Facebook
[TEXT ADS] UPLOAD YOUR SONG ON ITUNES & 150+ STORES 100% ROYALITIES