Burna Boy And Sowore Clash Over October 1st Revolution Protest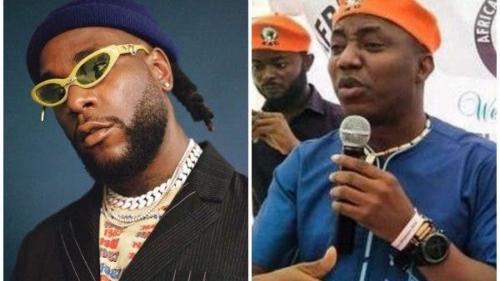 The African giant, Burna Boy was recently called to lead the protest of revolution against the bad governance in Nigeria by Yele Sowore which Burna clearly rejects.
Burna Boy further explains the reason why he can't join the protest was that the same people Fela fought for are the ones who out him through hell
See Post Below :
In a recent tweet Burna noted that he doesn't trust any politicians including sowore;
"EVERYBODY IS A FELA FAN AND SUPPORTER NOW THAT HE IS DEAD. HUMANS ARE SO FUNNY, YOU POLITICIANS ARE ALL THE SAME (ESPECIALLY IN NIGERIA) AND FRANKLY I DON'T TRUST ANY OF YOU.
Sowore in a bid of protecting his ego opined that he has always been a member of the Fela family right from when he was in higher institution.
in other to correct the perspective of Burna boy towards, he clarifies, he is nothing to the regular Nigerian that chases clout.
In sowore's words;
I AM A MEMBER OF FELA 'S HOUSEHOLD, ASK SEUN KUTI."

"I AM NOT JUST ONE OF THE PERSONS WHO YOU COULD DESCRIBE AS FELA'S FAN AFTER HE DIED," I AM A MEMBER OF FELA 'S HOUSEHOLD, ASK @REALSEUNKUTI , AS A STUDENT'S LEADER IN THE 90S I MET AND HUNG OUT WITH ABAMI EDA AT HOME AND THE AFRICAN SHRINE! IF YOU WANT TO BE FELA BE FELA