Panic As Mysterious Deaths In Kano Allegedly Rises To 640 In One Week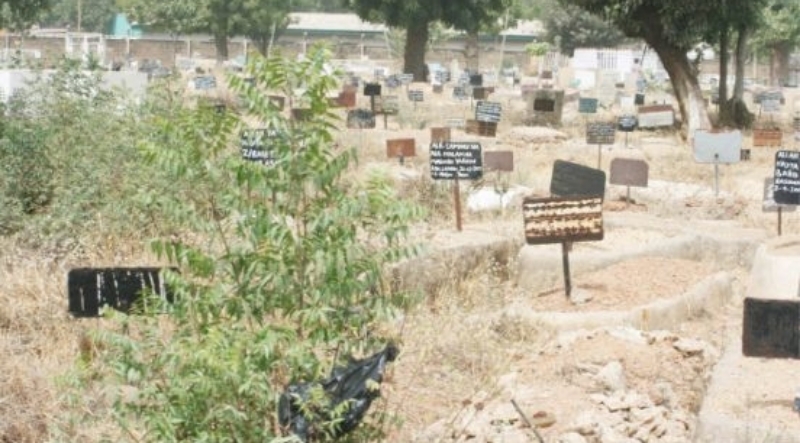 Following the alleged mysterious deaths in Kano state which has reportedly risen to 640 in one week, Nigerians have taken to social media to express worry over alleged mysterious deaths in Kano.
However, the cosmopolitan state was on lockdown for seven days which was recently relaxed by the Governor Umar Abdullahi Ganduje for a day owing to the declaration of Ramadan.
Reacting to the mysterious killing of the people in the state, some Nigerians linked the killing to Coronavirus while many others countered it and also pointed out that it maybe something else.
Speaking to newsmen, a health worker said there is a high level of suspicion that top government officials in the state have been exposed to the virus.
"Things are in disarray here, and there is no well-structured response to COVID-19. The government is not communicating. They are not testing, and people are dying. We have had people coming here to the hospital and when they died, they are immediately buried without taking samples for testing.
"This is not a rumour. People are dying. The suspended test centre was fumigated days ago, and normally it should take 48 hours but as of today, it has not been reopened. They said this is because of the shortage of reagents."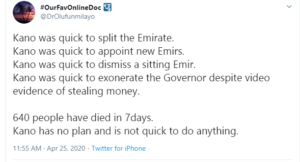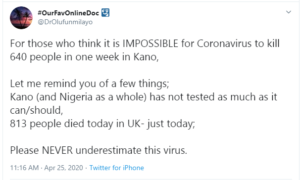 According to a Kano based Facebook user identified as Umar Khaleel, he revealed that his grandmother was the 14th person to be taken for burial at a cemetery in the state as of 10 am on Friday, April 25.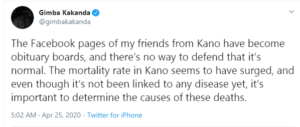 He also disclosed that another family member died when they got home from his grandmother's burial. The family member became the 25th person to be buried that day at the cemetery.
Nigerian doctor and Twitter user, Dr Olufunmilayo claimed that 640 people have died in Kano state in the last 7 days.
Kano was quick to split the Emirate. Kano was quick to appoint new Emirs. Kano was quick to dismiss a sitting Emir. Kano was quick to exonerate the Governor despite video evidence of stealing money. 640 people have died in 7days. Kano has no plan and is not quick to do anything.
For those who think it is IMPOSSIBLE for Coronavirus to kill 640 people in one week in Kano, Let me remind you of a few things; Kano (and Nigeria as a whole) has not tested as much as it can/should, 813 people died today in UK- just today; Please NEVER underestimate this virus.
Mubarak Umar, an Abuja/Kano based journalist also tweeted about over 10 prominent people dying in Kano state in the last 24 hours.
He wrote;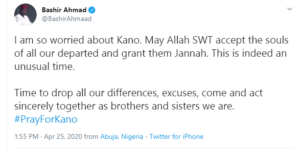 Kano lost the following personalities today: •Prof Ibrahim Ayagi, CEO of Hassan •Gwarzo School •Alh. Dahiru Rabiu, Former Grand Khadi •Dr. Musa Umar Gwarzo •Mal Musa Tijjani, former Editor of Triumph Newspaper •Alh. Adamu Isyaku Dal, former SUBEB Boss •Alh Salisu Lado
Haj Shamsiyya Mustapha •Haj Nene Umma •Alh. Garba Sarki Fagge. •Dr. Nasiru Maikano Bichi Secretary •Student Affairs NWU. •Prof. Aliyu Umar Dikko of Physiology Department, BUK •Alh Idi Mai Lemo Sheka •Captain Abdullahi Gyadi Gyadi Ja'oji Qtrs.
President Buhari's media aide, Bashir Ahmad took to Twitter to express worry over the recent deaths recorded in his home state.
He tweeted;
I am so worried about Kano. May Allah SWT accept the souls of all our departed and grant them Jannah. This is indeed an unusual time. Time to drop all our differences, excuses, come and act sincerely together as brothers and sisters we are. #PrayForKano
Nigerian opinion contributor on Aljazeera, Gimba Kakanda disclosed that the Facebook pages of his friends in Kano are now being used as obituary boards.
He wrote;
The Facebook pages of my friends from Kano have become obituary boards, and there's no way to defend that it's normal. The mortality rate in Kano seems to have surged, and even though it's not been linked to any disease yet, it's important to determine the causes of these deaths.