Ring Of Fire  – Tuesday Update (20 April 2021) – Zee World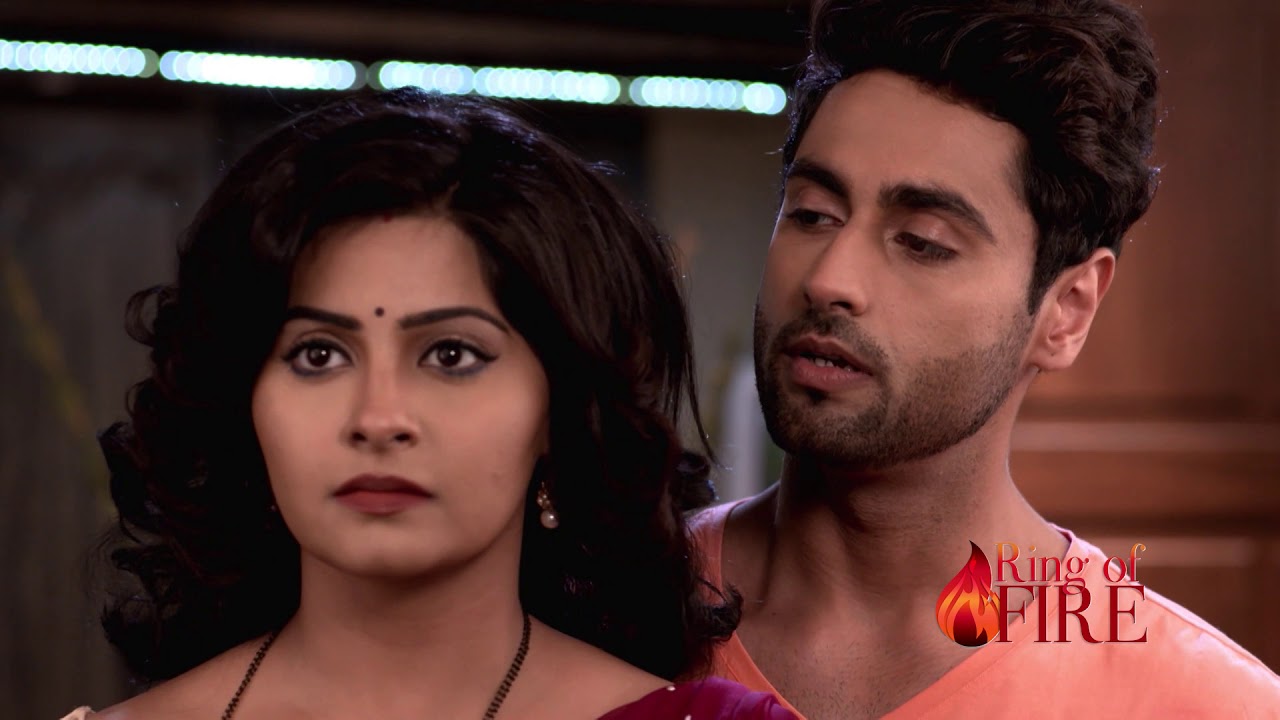 Ring Of Fire Update 20 April 2021: Vishu checks Shristi's lab report and says Shristi is pregnant. Shristi is shocked and tells doctor she cannot be pregnant. Doctor says she herself got sample tested and report is right. Shristi says she will get lab test again. Dulari asks Shristi what is a problem if married women gets pregnant. Revathi says Dulari is right, Shristi should accept truth. Shristi gets nauseous and runs to washroom, Ragini accompanies her. Dulari says her vomiting proved she is pregnant and no need for third test, congratulates Daadi for becoming great grandmother. Ragini says Shristi is vomiting due to tension. Revathi says it is pregnancy and with her experience, reminiscing mixing medicine in Shristi's juice.
Shristi walks to her room. Baiju follows her. She says he must be wanting to ask question, but she just wants to tell that their relationship is above all this for her and she is loyal. Ragini walks to her room and calls doctor, but she does not pick call. She then picks he ultrasound report and tears them. Anurag asks what is she doing. Ragini then calls doctor and again and says she does not need treatment as she feels she is not pregnant, like her devraani was proved pregnant falsely. She then walks to Shristi and encourages her that she is on right path and should not deter, she will get her retested and prove she is not pregnantt. Baiju says no need for that and walks away.
Vishu sits sadly in his room. Revathi walks into his room and brainwash him that he need not worry as Shristi's baby is his, shows him mangalsutra and says Shristi did not remove it when his death news came, she forced her to remove it as per rituals, but Shristi always considered him as husband. Vishu asks what about Baiju. Revathi says Shristi married him for protection. Vishu sits confused. Revathi walks out. Dulari asks her why she is confusing Vishu. Revathi says she is clearing his thoughts.Ragini feeds soup to Vikral and tells what is happening at home. Vikral shows her paapers. She reads it is his will that he wants his property's 10% each be given to his wife and son and rest 80% to Anurag and Ragini's child. Anurag hears that and thinks he wants his child to keep away from Vikral and has to do something.
Eunuchs enters Vidhvan's house singing and tell Vishu that she danced when he was born and now will dance when his child will be born. Neighbor lady enters and says Shristi has 2 husbands, now present one is Baiju, whose child is this now…Draama continues..Shristi cries reminiscing woman's taunt that Shristi is Baiju's wife, but pregnant with Vishu's child. She drops food down. Vishu sees her and asks if she is fine. She says nothing is fine, but sure everything will be alright soon. Vishu reminisces Revathi telling it is his child. Baiju packs his bags. Shristi tries to stop him. He says he should have gone long ago. In living room, Revathi asks Anurag to call Vidhvan and find out where he and Divya are. Baiju walks down with bags and Shristi follows him. Anuraag asks where is he going. Baiju says he dreamt big and stayed here, he should not have dreamt of touching sky, he will not stay here, Shristi can stay with Vishu and walks away. Shristi stands crying. Vishu tries to console her, but she pushes him away and runs to room.
Shristi runs to his room and cries reminiscing Baiju leaving him, his support and love earlier, etc. Naina…song…plays in the background. Revathi walks to Vishu's room and brainwashes him to use opportunity and get closer to Shristi. Vishu says Shristi loves Baiju now. Revathi says woman's heart is like a mirror, it will love whoever's image is seen repeatedly, so for sometime, Baiju was seen in her heart, but now Baiju has gone and he should go and show Shristi how much he loves her, she will be back to him.Vishu walks into Shristi's room with milk and biscuits and consoles her that Baiju left her, but he will be with her forever and will love her. She says she cannot give him anything for his sympathy. He says he is taking his right and not asking her love, he will be with her always.
Anurag consults lawyer and asks him to find some solution to keep his child away from Vikral. Lawyer says they cannot do that as Vikral is child's grandfather, he will make a will that child has risk from Vikral. Ragini hears their conversation and confronts Anurag how can he try to stop a grandfather meeting from grandchild, he is doing wrong and she will go away from him after child birth.Shristi continues crying and calls Baiju, but he does not pick call. Her inner self appears and says Baiju was just her friend and protected her as friend, she never considered him as her husband, her husband is Vishu….
Shristi reminisces Baiju praising her and cries. Baiju thinks Shristi may not be pregnant. Revathi goes to doctor's clinic and tries to bribe her. Doctor nervously asks her to go before anyone sees him. Baiju walks in says he saw it and was sure Shristi is not pregnant, says Revathi is caught red handed. He gives money to doctor and sends her, then confronts Revathi that he doubted her and caught her rend handed, she was a saas u got her bahu married to him to protect bahu, called him son and back-stabbed him. He went out of house to catch her. He trusts Shristi blindly and if she said no, it is no…Baiju returns home. Shristi gets happy seeing him and runs towards him. Tere liye hum hain jiye..song…plays in the background…Baiju says he came back as Revathi requested him to return. Vishu feels shattered and walks to his room.
Baiju returns to his room and reminisces Revathi telling she considers him as son, but Vishu is her biological son and Shristi's first husband, so she wants Baiju to go away from Shristi's life, Shristi trusts him a lot and he should reunite Vishu and Shristi. He cries and washes his face. Revathi walks in and apologizes, says she is helpless. He says he promised to reunite Vishu and Shristi and will. Revathi praises Baiju's sanskars and says she would have done same if he was in Vishu's place and is blind in her son's love. She says she wants to give him a right of giving fire to her dead body. Baiju emotionally hugs her and promises again. Revathi leaves.Vishu walks to Shristi. Shristi asks not to talk to him. He leaves. Ragini passes by and seeing Shristi asks what is she doing here, she should be with Baiju. Shristi says Baiju came here for maa. Ragini says she should show her wife's right on Baiju. Shristi leaves. Anurag hears their conversation and asks what is Vishu's mistake in whatever is happening. Ragini asks what is Shristi's mistake and says he tried to separate a daughter and father and does not have right to speak. She walks away.
Shristi walks into Baiju's room and tries to speak. He yells at her and sends her away. She shuts door on her hand and shouts. Baiju asks if he is fine and shows concern. Shristi says she knows he does loves her and is acting. He says he is not, yells at her. She walks out crying. Anurag sees that and asks Baiju if he does not love Shristi. Baiju says preferences change with time and asks if he is not on Vishu's side. Anurag says he is neither on Vishu nor on Baiju's side, though he loves Vishu a lot, now the question is what Shrtisti wants.Vishu shows medicine chart to Shristi and says she has to take them regularly and he will accompany her to doctor's checkup. Shristi shows her disconcent and yells at him to stop worrying for her as he is nothing to him now…
Vishu tells Shristi that Baiju is her husband, but did not come seeing her condition, but he came, he will get her water. Shristi says she will decide where she will stay, he does not have to worry. She leaves. Vishu thinks they h ave crossed limits, so she is pregnant, till when she will resist him. On the other side, Ragini angrily tears books and burns them. Anurag pours water and asks what is she up to. She says she does not want to study. He asks why, she wanted to study for their child. Ragini says it is only his child as he took all the decisions, once she gives birth to the child, she will hand her/him to Anurag and leave this place with his babuji far away.Shristi gives food to Baiju. Baiju pushes her and says he does not need. Vishu runs and holds Shristi and asks if she is fine, then asks Baiju to apologize. Baiju says why should he. Their argument starts. Baiju pushes Vishu. Their fight starts. Shristi pleads them to stop and sends them away. Revathi watches them and goes to Baiju's room and says she feels sorry for him and he is bearing so much because of her. Baiju says he don't mind, wait and watch how he explodes big bomb tomorrow.
Next morning, Shristi opens door and sees a girl standing. Girl enters and asks if Baiju Kanpura stays here. Shristri says yes. Baiju sees her, happily runs and hugs her. Dulari asks who is she. Baiju says his ex-fiance and says she will stay in his room. Woman says she has so much to tell him. He takes her to his room while Shristi stands sadly. Girl continues her overacting. Baiju warns that he paid her only to act in front of Shristi. Revathi walks in. Woman continues acting. Baiju tells Revathi that he hired this girl to make Shristi jealous.Shristi in her room cries reminiscing Baiju closeness to his ex-fiance and reminisces her inner self telling she is loving her fake husband. Vishu walks in and says he brought her something. She sees divorce papers. Vishu asks her to sign them. He says she cannot force her. He walks away.
Anurag sells old items to vendor and asks him to take even Ragini's guns. Vendor gets afraid and says he cannot buy them. Ragini sees that and angrily shouts at Anurag how can he sell her father's gift a few bucks. He says he would give money instead to get rid of bad things. Their argument starts. Anurag asks if she has to choose between him and her babuji, whom she will choose. Ragini says her babuji as he is a better man than Anurag… Anurag is shocked. Their argument continues…
Follow Us Social
Facebook Fans Zone: @365trendies
Twitter Fans Zone: @365trendiesNG
Instagram Page: @365trendies
What do you think about this post?
Get More Updates via Twitter and Facebook
[TEXT ADS] UPLOAD YOUR SONG ON ITUNES & 150+ STORES 100% ROYALITIES