Ring Of Fire – Friday Update (9 April 2021) – Zee World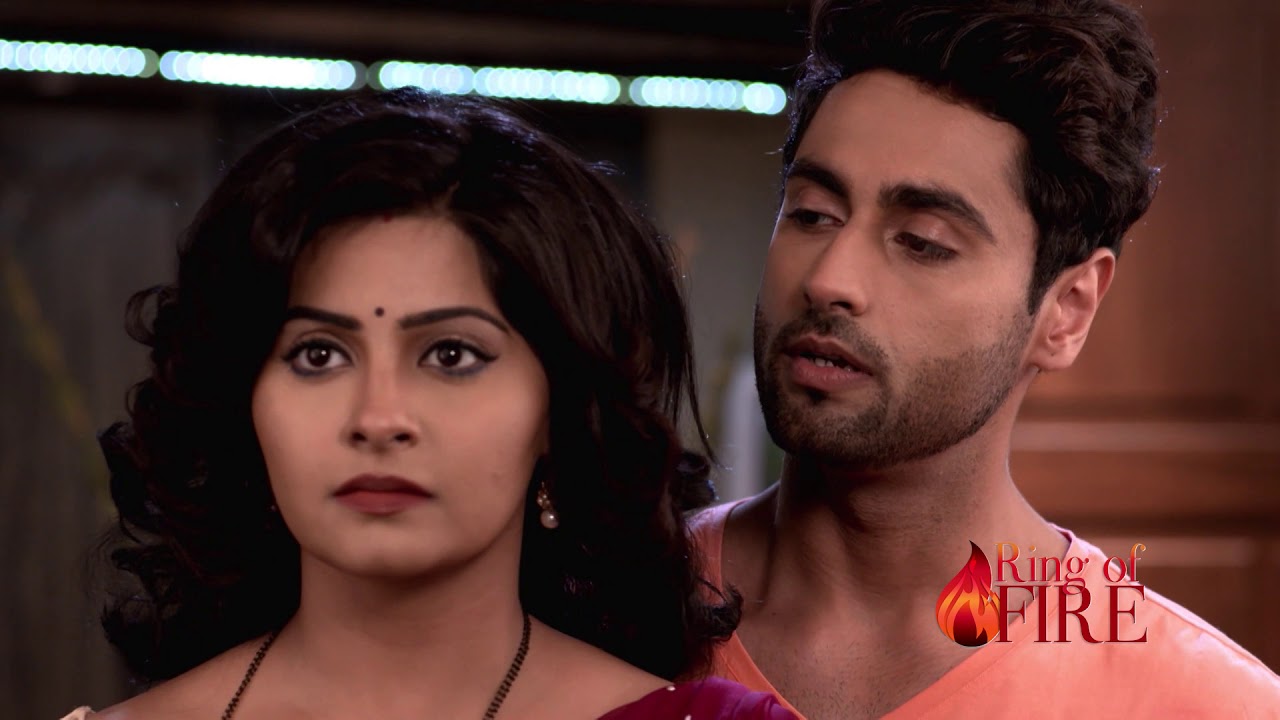 Ring Of Fire Update 9 2021: Chanda gets Munni Bai engraved on Shristi's hand and rechristens her as Munni Bai. She warns Shristi to stop crying and leaves. Shristi reminisces Vishu saving her from fire, Revathi considering her as daughter, etc. Other ladies take her for dinner. On the other side, Ragini tells Anurag that she told him all her secret and went to meet Abhimanyu as she is responsible for his mental condition somehow, but she will not hereon as her life is being affected. She says she loves him a lot and apologizes. Revathi knocks door and calls them for dinner. Anurag angrily walks out. Revathi asks Ragini why she was apologizing Anurag. Ragini says they were playing sorry game.
Shristi is taken to her room. She is unable to bear tattoo skin burn and tries to scratch it. She then sees Ganapati idol and reminisces Ragini gifting it. She reminisces Chanda rechristening her as Munni Bai in brothel, thinks she cannot be Munni bai, as she is someone's daughter, bahu, sister, etc., nobody can destroy her true identity.Ragini goes to meet Abhimanyu. Abhimanyu greets her and says he gets happy seeing her, but why she is looking tensed. Ragini says she cannot meet him from hereon. He says that is okay, she should not get sad though. She says she will leave then. He extends hand. Anurag enters and shakes hand and gives him his favorite dart game, books and other gifts and tells Ragini that even he would have done same in her place and says till Abhimanyu gets well, they will help him.
Shristi waits for chance. She hears pimp guards discussing that Chanda has gone with other girls to temple and AC rooms are sprayed with mosquito repellent. She walks out holding utsensil aand says she is going to take bath, then hits their head with utensil and drags their bodies to room.Ragini and Anurag return home. Ragini thanks Anurag and says she is so lucky to have him in life. She rounds with him and feels drowsy. He holds her and speaks and finds her unconscious, gets worried and calls Dulari, Divya, Revathi.
Shristi tries to leave, but Baiju's amma catches her and says she came to take her second installment money and if Shristi tries to escape, Baiju will destroy her family. She calls Baiju and informs his chamiya/ Shristi is trying to escape. Baiju warns Shristi. Shristi pushes Baiju's ammaa in mosquito smoke room and closes door. Shristi hears Baiju asking amma if she is fine and if she got asthma attack, thinks she cannot be selfish and gets out ammaa and sprays pump into her mouth. Amma calms down. Baiju over phone says he is coming there.
Shristi saves Vyjayanti/Baiju's amma when she gets asthma attack and gives her inhaler. Chanda with other girls returns from temple. Doctor checks Ragini and says Ragini is fine, though she took blood sample and will inform them of report in the evening. Anurag forces Ragini to rest. Ragini says she has a lot of work and needs to cook. Dulari walks in. Anurag asks her to get rope to tie Ragini. Dulari suggests to get Ragini's medicine, she will guard her. Anurag leaves.Baiju rushes to amma. Amma cries hugging him. Baiju asks why she is crying. Amma says she did big sins. Baiju says she is his amma and cannot be wrong. Amma says they did wrong with Shristi and make her a pr*stitute. She reminisces Shristi pushing her in room and trying to escape, but then returning and saving her life. She says Shristi would have escaped, but saved her life.
Anurag returns home and asks if Ragini is fine. Whole family acts and hesitates to speak. Anurag rushes to Ragini and asks what happened to him. Ragini says he needs to tone down his voice, what will chote Thakur says if he hears his shouting. Anurag asks what. She shows his childhood toys, but he does not understand at all. She serves him tea in small cup. He does not understand even then. She says she told him that she loves him, but now she loves someone else. Anruag gets tensed and asks what. She continues and says let her tell him in ears and murmurs. Anurag jumps in happiness that he is becoming father.
Chanda beats her pimp guards for being careless and letting Shristi try to escape and orders her assistant pr*stitute to call their pimp to sell Shristi. Baiju walks in. Chanda asks how is his mother, she is selling Shristi, they will share money. Baiju returns her money and says Shristi will go back with him. Chanda says he himself brought Shristi here and this is Chanda's brother and she will not let Shristi go without her auction and orders to call pimp again. Baiju says he will not let anything happen to shristi.
Anurag's whole family rejoices hearing about Ragini's pregnancy. Anurag walks down with Ragini and says they frightened hm. Family congratulates him. Anurag thanks them and hugs Revathi. Revathi blesses him. Anurag reminisces Revathi's betrayal and walks away.Ragini's pregnancy. Anurag gets overprotective and asks Ragini to sit properly. Daadi laughs that Ragini is pregnant and not ill. Brij brings lots of toys and says he was passing by toy store and brought toys as he is becoming junior grandfather. Family laughs. Revathi gets sad thinking of Vishu and Shristi. Ragini says she tried to call Shristi, but her phone is not reachable. Revathi says let us go and meet her personally tomorrow. Vikral and Parag walk in dancing with drummers and congratulate Ragini and Anurag. Ragini asks where is amma. Vikral says she went to meet ailing relative and tells Anurag he has to make party arrangements now.
Baiju's amma cries that she did big sins in life and now realized them, they should not have thrown Shristi in brothel and asks Baiju to promise to get Shristi out of brothel and save her life.Anurag takes Ragini to their room and shows it decorated with balloons and baby pics. Ragini gets very happy and says these baby pics are so beautiful and her baby girl will be much beautifl than this like her mamma. Anurag says baby boy. Ragini asks if he does not like girl. He says very much and says he wants daughter like Ragini and mimicsplaying with daughter Sakshi. Ragini says Chandini. Anurag says it is rhyming with her name. Their conversation continues. Ragini sees Shristi's 3 missed calls and thinks Abhimanyu called her. After sometime, she calls Shristi, but her phone is not reachable.
Chanda orders pr*stitutes to get Shrisit ready for auction. They get Shristi ready and bring her for auction. Men wait eagerly for her. Old man yells last time she slapped him, now he will buy her and show his power. Chanda asks to start auction from 2 lakhs. Someone says 4 lakhs. Auction continues. Baiju enters disguised as old Nawab and says 20 lakhs. Nobody speaks after that. Greedy Chanda sells Shristi to Nawab. Nawab takes Shristi out. Shristi pleads to spare him. Baiju says he bought her to free her as he promised amma to free her. Shrisit pulls his beard and is shocked to see him. He says he and his amma have changed and wants to save her genuinely. She yells at him that he wants to sell her somewhere else saving from here. She continues shouting.
Ragini and Anurag go to hospital to meet Abhimanyu and don't find him. Nurse says Abhimanyu got discharged and left a letter for them. They both read that Abhimanyu is returning back to US and happy to get friends like Ragini and Anurag, they both should lead a happy life with their baby and should send baby's pic to him once it is born. Anurag says he always thought he is superior trhan Abhimanyu, but he proved he is a better friend.
Chanda excitedly looks at 20 lakhs and orders his pimps to arrange feast and liquor. She is shocked to see fake note and realizes Baiju betrayed her. Baiju on the other side pleads Shristi to trust him and come along. She resists. Chanda reaches with her pimps and attacks them. Baiju at first overpowers them, but then pimps overpower him and he falls down injured. Chanda drags Shristi with her. Shristi calls Baiju for help. Baiju gets up and thrashes pimps. Chanda points knife on Shristi's neck and warns him to let her take her Munni Bai back. Baiju warns to leave Shristi, else he will kill her. Chanda says she is not afraid of men like him. Shristi bites Chand'a hand. Baiju picks knife and pointing knife at Chanda's neck and says he can kill her right now, but he just wants to go away with Shristi and walks away with her. Chanda kicks her pimps and yells at them.
Baiju takes Shristi to his home. Ammaji apologizes Shristi and says Shristi was in a hell, asks Baiju to drop her home. Shristi asks her to stop her drama, she knows they took her out of one hell and will dump her in bigger hell. Ammaji says no, she is free to walk away and asks to hit rice bowl and go. Shristi kicks bowl and walks away. Ammaji smiles. Baiju follows Shristi. Shristi shouts at him not to follow him, he ruined her life already. He pleads to let him accompany till her home. She says he is worried that she will inform of his heinous act to her family, she will definitely. Baiju says she is free to tell everything to her family.
Anuragg says Ragini that Abhimanyu went back to US as he finds mental peace in his home around his people. He tries to touch her feet. Ragini says husband should not touch wife's feet. He says she has to eat well for baby and should get fat, baby will laugh on fat mamma. Ragini says she does not want to be fat. Their lovely discussion continues. Revathi walks in and says they have to perform ritual pooja tomorrow morning for baby's wellness. Next morning, Ragini wakes Anurag and asks to get ready for pooja.
Follow Us Social
Facebook Fans Zone: @365trendies
Twitter Fans Zone: @365trendiesNG
Instagram Page: @365trendies
What do you think about this post?
Get More Updates via Twitter and Facebook
[TEXT ADS] UPLOAD YOUR SONG ON ITUNES & 150+ STORES 100% ROYALITIES