Curse Of The Sands – Friday Update (14 May 2021) – Zee World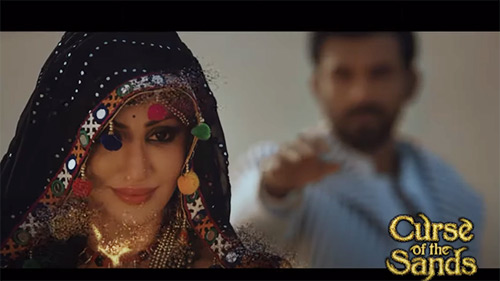 Curse of the sands 14 May 2021: Mohini leans on Ram saying she will not let even a bit of space to pass air between them. Siya dreams about Ram going away from her and wakes up calling Ram and checks Ram. She sees sand on bed and thinks how did it come here, maybe due to wind. Mohini disappears and thinks it is her.
Siya thinks she has to leave at night before Ram sees her. Dil Hooon Hoon Kare….song.. playhs in the background. She keeps signed divorce papers on table and mangalsutra. She removes her and Ram's named braclet and keeps it also on table and leans on Ram to kiss him last time. Mohini fumes in jealousy. Siya backs off thinking when Ram has removed her from his heart, she should not go close to him. Once she leaves, Mohini comes near Ram and thinks she was hidden under soil and after 500 years her dream has come true to touch him, now their body and soul will be one. Siya walks away with her bags reminiscing Ram telling it is not necessary that relationship should sour to end, he does not love Siya anymore and wants divorce from her. She thinks she wanted to come to Ram's ancestral haveli since she married him, but now is going like this. Mohini leans next to Ram and thinks she will unite with Ram now.
Siya walks out of haveli and seeing climate changing prays god to protect her Ram. Mohini hears temple bells and unable to bear sound runs out shouting. Her ghagra paltan team also runs pleading Mohini to save them. Siya gets into car and tries to leave, but Dayimaa stops her. Siya comes out of car and asks if she is hurt. Dayimaa says hurting her heart, she is asking if she is hurt physically and says she is Kunwar rani saa and cannot go like this. Siya says Ram treats her like shoes and does not respect her anymore. Dayimaa says she is Ram's dignity and should be with him always. Siya says Ram wants to divorce her.
Dayimaa says Ram's life is in danger and she needs to protect Ram. Siya asks what she means, she is repeating same since she came here. Dayimaa says chudail's shadow is on Ram and only Siya can protect him. Siya says she cannot and walks away. Mohini thinks nobody can stop her from getting Ram, Siya has to go at any cost. She continues..
Mohini gets happy seeing Daimaa returning sadly after trying to stop Siya smirks thinking old woman's plan failed and thinks she is in Rana saa/Ram's heart since generations and nobody else has place in it. Siya returns reminiscing Daimaa's words that only she can protect Ram and should not divorce him, she should bind Ram in her love. Mohini fumes seeing Siya returning. Ram sees Siya's signed divorce papers and mangalsutra and thinks at last she is gone. Siya returns and burns divorce papers. He asks what is she doing. She says he did what he liked and asked her to divorce him, she will do what she liked and will not divorce him, she will make sure their marriage lasts forever, Siya and Ram are one.
Mohini coughs up blood and fumes that Sautan/Siya did not do right. Siya lures Ram and gets intimate with him. Mohini cries that Devaki played trick and did not do right. Devaki Daimaa enjoys liquor with Saroj Dadimaa. Dadimaa praises Daimaa's plan. Daimaa says this is her place and she decides what happens here, Ram and Siya cannot do whatever they like.
Siya kisses Ram. Mohini starts disintegrating into sand slowly and thinks what is happening to her. Ram pushes Siya away and asks what was she doing. She says she was showing that she can lure him even now. Ram walks down. Siya watches from balcony smiling. Mohini pushes her. She falls down calling Ram.
Ram runs and holds her, saving her on time, and asks what was that. Dayimaa and Dadimaa also rush to her. Siya says she felt like someone pushed her. Ram nurses Siya's wound. Siya asks if he is feeling pain when she is injured. Ram sits silently. Siya says if she is hurt, he will feel pain and and vice versa, they are made for each other and nobody can separate them.
Mohini continues disintegrating. Her ghagra paltan team asks what happened to her. She says she does not know, she just tried to kill her sautan. Her team does black magic and gets sand. She puts her disintegrating hands in sand and gets back to her normal shape. They say she knows the reason, she cannot harm her sautan as she wears Ram's named mangalsutra, if she tries to hurt Sautan, she herself will be injured. Mohini says she will kill her sautan at any cost. Her team taunts her that she cannot harm her sautan a bit. She lashes them and says she will end her ghagra paltan to get her Rana saa… They taunt she cannot change her fate if she hits them.
Follow Us Social
Facebook Fans Zone: @365trendies
Twitter Fans Zone: @365trendiesNG
Instagram Page: @365trendies
What do you think about this post?
Get More Updates via Twitter and Facebook
[TEXT ADS] UPLOAD YOUR SONG ON ITUNES & 150+ STORES 100% ROYALITIES