Ring Of Fire – Monday Update (12 April 2021) – Zee World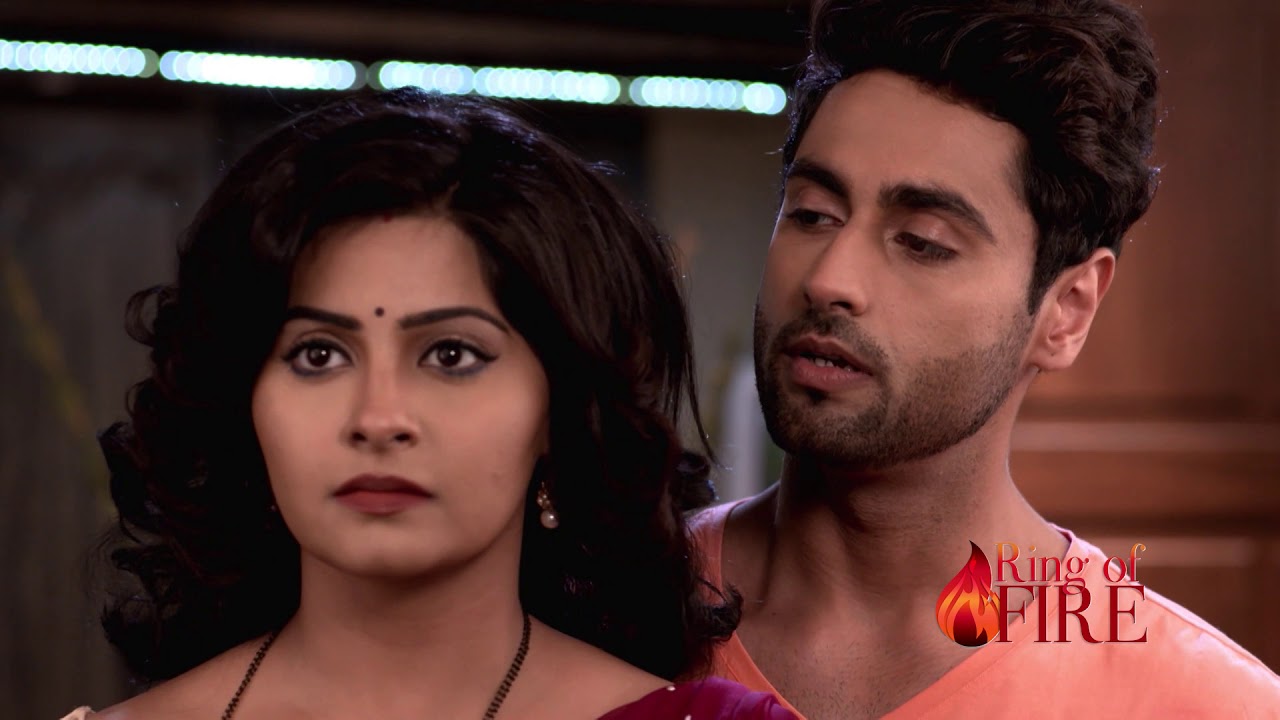 Ring Of Fire Update 12 April 2021: Ragini warns goons to dare shoot her father, she will not spare them. She opens eyes and sees Parag standing and asks where are goons. In Mumbai, Shristi and Baiju see an old couple fight for taking selfie and help them take their pic. Couple smile at each other. Baiju says they were fighting just now and now they are smiling at each other, what is the secret. Old man asks if they are married. Baiju says yes. Old man says nok jhok is part of married life. Woman takes Baiju and Shristi's pic.
 – Ring Of Fire Update 11 April 2021
Parag with Ragini and Anurag bring Vikral home. Parag warns guard to clear all hurdles that come between his babuji's wheelchair and guard him 24 x 7. Vikral's trusted guard Solid asks what about the goons who tried to attack Babuji. Parag says he will kill them and stuff sand in their body. Anurag makes Ragini sit and gives her juice, without talking to her much. Ragini asks if he is angry on her. He says she is not taking of herself and risked her life, what if something had happened to her, what about their child. Ragini asks him not to worry,she is fine and calms him down.
Baiju returns to hotel with Shristi. He gets gift for her and thinks he will win her heart soon. In room, he gives her gift box and asks her to wear it for their night outing to a night club. Shristi opens box and gets shy seeing short dress.Ragini chats to Select and says she wants him to guard babuji 24 x 7 and find out who the culprit is who wants to kill babju. Select assures her that he will risk his life and protect babuji and find out culprit. Ragini then feeds soup to babuji and reminds him how he was proud of her shooting skills. Ammaji comes and asks to take care of herself and baby and not exert herself Ragini says she rested well. Anurag scolds her next for being too careless regarding her health, he is worried about her and their baby. She weeps and says he would have informed her calmly. He consoles her and says hormonal imbalance happens in pregnancy. She asks what hormonium. He asks her to forget it and rest.
Baiju wearing modern attire waits for Shristi outside car. Shristi comes wearing his gifted shift dress smiling. He gets mesmerized with her beauty. She says she did not identify him in modern attire and kissing his cheek says let us go. He says he can do anything for that kiss again. They get into car and head towards night club.Anurag gives religious book to Ragini and asks to read it. Ragini says she knows by heart. Anurag asks read it for their child's better upbringing. He then sees Solid guard and asks Ragini what is he doing. Ragini says she does not know. He walks out. Select walks in and informs that Ragini's doubt was right, Vikral's party people want to kill him, now her babuji's life and dignity is in her hands now.
Ragini takes pen from him and thinks she has to protect her babuji now. Anurag returns and asks what was he telling and why she is holding pen. She says she did not have one here. He says there are many here.Vishu takes Shristi to disco and says these people are dancing like we dance after drinking bhang. He insists her to dance with him and teaches her steps says she just has to act as turning spoon, changing bulb, etc. Someone asks Shristi if he can dance with her. Baiju says Shristi is his wife and he should go and dance with his girlfriend. Man leaves. Baiju says this song is very boring and requests for Bollywood song. DJ speaks and says this song is dedicated to that loverboy. He comes in light. Shristi is shocked to see Vishu as DJ and shouts Vishujii. DJ leaves.
Shristi searches him and drops someone's glass. She tells Baiju that she saw Vishuji here. Bouncer asks them to come aside and pay for glass.Vikral's party people inform Parag that they have to file nomination form elections and decide who will represent them. Ragini enters and asks what to think in it, Parag will stand in elections in place of babuji as so has right on father's property and duty to protect father's dignity. Parag says that is fine but. Ragini continues convincing him. He agrees. Anurag comes takes Ragini in to to give milk. Party workers frighten Parag that this time competition is tough and opposite party people are distributing liquor among people to garner votes.
Parag asks to give then double liquor and make them vote him. Ragini excuses Anurag saying she is going to sleep and interferes party workers and says they will not distribute liquor as people will forget after they get sober, they have to do something else.Shristi returns home panicking that she really saw Vishu and requests Baiju to find her Vishuji. Vishu/DJ walks into hotel telling someone over phone that he is hotel owner seth Dhanraj's son. He tries to open Shristi's room. Shristi says Vishuju has come, she will open door. Receptionist calls DJ and he leaves. His scarf falls down. Shristi opens door and seeing scarf says this is Vishuji's scarf, Baiju as a friend should find Vishuji at any cost.
Follow Us Social
Facebook Fans Zone: @365trendies
Twitter Fans Zone: @365trendiesNG
Instagram Page: @365trendies
What do you think about this post?
Get More Updates via Twitter and Facebook
[TEXT ADS] UPLOAD YOUR SONG ON ITUNES & 150+ STORES 100% ROYALITIES