Ring Of Fire – Saturday Update (10 April 2021) – Zee World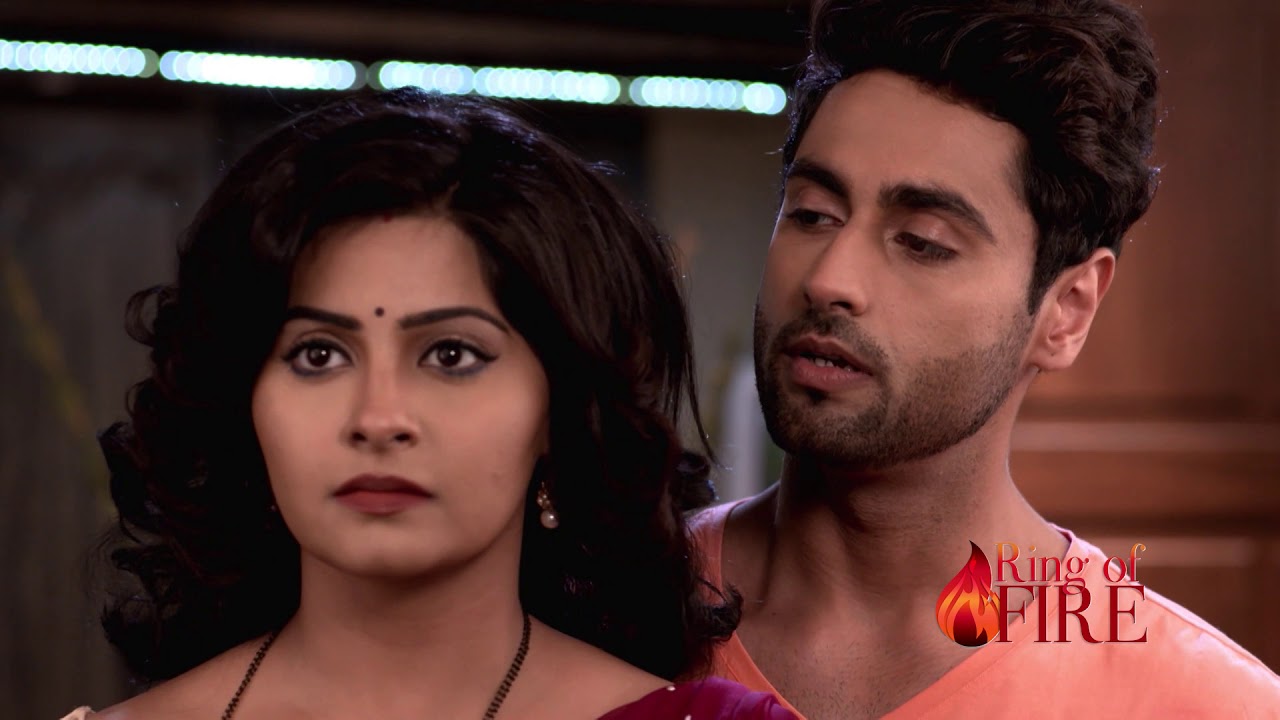 Ring of Fire Update 10 April 2021: Ragini wakes up Anurag in the morning to get ready for pooja. Dulari knocks door and walks in and asks if they are not yet ready for pooja, it is very important for lalla/baby. Anurag asks why they call baby with weird names. Dulari leaves. Anurag rushes towards bathroom. Ragini says she will go first. Anurag asks why so. She says he always says ladies first and she is also pregnant. Anurag agrees. They both go down after getting ready. Vidhvan says he has called special religious group to perform pooja and bless child.
Shristi and Baiju walk in. Family gets happy seeing them. Revathi asks where were they, their phone was not reachable. Vidhvan says he did not know their address. Shristi tells Revathi she needs to talk. Just then Ragini walks down and happily hugs her. Family asks Ragini to tell what has happened in Shristi's absence. Everyone create suspense. Shristi nervously asks what happened. Revathi says Shristi is becoming chachi/aunt. Shristi happily hugs Ragini and jumps in happiness. Revathi asks what she wants to say. Shirsti says she will later. Vidhvan asks them to get ready for pooja. Dulaari gives them Anurag and Ragini's clothes.
Vidhvan greets panditji's team. Pandit says they nominate guarding for baby wherever they go for pooja. Pooja starts. Daadi asks Revathi to come forward. Anurag says they have decided Shrisit and Baiju to make child's guardians. Revathi feels sad. After pooja, Revathi goes to her room and cries that Anurag must have felt she is old to take care of baby, so nominated Shrisit and Baiju. She looks at Anurag's childhood items. Ragini walks in and cheers her up and says she needs Anurag's sweater for her baby.
Shristi tries to get her bag from cupboard. Baiju asks her to be careful and helps her. Shristi says she will not fall for his drama and does not mind if he has changed or not. Baiju shows her property papers. Shrisit asks what he is up to. He burns papers and says he does not need property, but is taking good memories spent with family, she cannot snatch that from him. She continues yelling at him and he continues listening…
professor's lecture. During break, Divya gets busy studying. Fellow spoilt brat student Rocky asks his friend to eye on any girl except Divya as she is very innocent and only he will make her fall in his fake love. He throws rocket on Divya and apologies that his friend threw it by mistake. She says okay and gets busy studying again. After classes, Rocky invites Divya to his fake birthday party at home. She says she does not like parties. He says he invited 3-4 friends only and it is a low key party. Divya says no thank you.
Ragini is busy in her room when Anurag enters holding lots of gifts for baby and loudly speaks. Ragini asks him to speak slowly, their would be baby chota Singh got afraid. He shows her all gifts and fruits he bought for her. She says she alone will have them all for her and her baby, he brought whole store. Anurag says he can do anything for his chota singh and loves him a lot. Ragini asks him to think how much his mom loves him and what she did was in his love. He says he asked Baiju to pick Divya from college and walks out.
Baiju reaches college and sees Divya speaking to Rocky. He tells Divya that Anurag sent him to bring her home. Divya yells it is better to go with stranger than him. He warns her against Rocky, but she does not listen to him and accepts Rocky's party. Baiju returns home and informs Shristi whole story and asks her to stop Divya as Rocky is a bad guy. Shristi as usual does not trust him and yells he does not know friendship as never attended school. He says she is right, but he is a goon and knows people like Rocky, so they should stop Divya from attending Rocky's party. Shristi yells and does not agree.
Dulari serves tea to Revathi and drops it on her. Anurag passes by and gets concerned, runs to her calling maa and asking if she is fine. Revathi gets emotional. Anurag reminisces Revathi trying to separate him and Ragini and walks away angrily. Dulari apologizes Revathi. Revathi says her mistake got Anurag to look at his mother.Rocky's party starts. Divya enters party venue. His girlfriends and friends praise him for trapping tough nut Divya. Rocky says trapping girls is an art. Divya greets him. At home, Baiju decides to go himself and meets Ragini on the way. He tells her whole story. She says even she will accompany him. He says she is pregnant and should not stress herself. Ragini insists. They leave to bring Divya. Baiju spikes drink and serves it to Divya. Divya collapses. They take her to a room. Baiju and Diya reach party venue and ask about Divya. Rocky's girlfriends say Diya left long ago.
Rocky gives spiked drink to Divya. She drinks it and feels drowsy. Her friend Khushboo asks if she is fine. Divya says yes. Rocky walks to Divya and asks her to go and rest in room. His friends take her up to room. Khushboo asks Rocky where is Divya. Rocky says he sent Diya home as she was not feeling well. Khushboo believes him. Ragini with Baiju enters and asks Khushboo where is Divya. Khushboo says she went home. Baiju asks if she saw Divya going. Khushboo says no and leaves. Ragini says let us go, they may find Divya on the way. Baiju says he feels something wrong, Khushboo did not see Diya going out. Rocky with his friends asks Divya to relax and she falls asleep. His friends say they will toss and whoever wins toss will romance Divya. Rocky says it is his party and he will romance Divya, asks friends to record video properly, he will use it to blackmail Divya.
Baiju and Ragini continue searching Diya. Rocky's friend Sneha sees them and messages Rocky. Baiju identifies seeing her in Divya's coaching class and asks where is Divya. Sneha asks who Divya. Baiju reminds her. She says Divya went home. Rocky gets intimate with Divya and asks friends to record video well. His friends inform that Divya's family has reached. Rocky says he does not mind and will finish his act before they reach here. Baiju feels something is wrong again and walks to room. He breaks door and enters. Rocky and finds hide. Baiju says how can door be locked from inside, someone was here. Ragini says door must be jammed. Baiju leaves with her. Rocky continues his heinous act. Baiju sees Divya's bag and reminisces seeing dupatta beside bed. He tells Ragini he feels he saw something in room and rushes there. They are shocked to see Rocky on Divya, and Baiju trashes Rocky and his friends royally.
Ragini says Divya is unconscious, let us go from here. Baiju lifts Diya and leaves from there.Revathi tries to call Baiji and Divya and gets tensed when they don't pick call. Baiju walks in lifting Divya and takes her to her room. Whole family gets worried. Ragini informs whole incident. Anurag shouts he will not spare Rocky. Brij says he will crush Rocky. Ragini says she already complained police and got Rocky arrested. Divya emotionally apologizes Baiju for misunderstanding him. Baiju says he is like her brother. Revathi says he is and gets emotional, even Vidhvan says Baiju has taken Vishu's place now.
Ragini back to her room describes how Baiju punished Rocky and his goons and even she punished them. Their nok jhok starts. Anurag apologizes her and says I love you. She hugs him and thinks if she had informed him what she escaped narrowly during fight, he would have been tensed, she should be careful.
Baiju walks into Shristi's room. Shristi reminisces Baiju warning her about Rocky and asking to accompany her to bring Divya. She thinks whether to forgive him or not. She throws pillows on him and shouts who is he, the one who threw her in brothel, tortured her, eyed on property or the one who got her out of brothel and burnt property papers, who is he, why did he come into her life, she will not forgive him. She repeatedly hits his chest. He stops her and says she can relax and start again, today he saved Divya as a brother and not to seek her forgives as he does not deserve forgiveness. Her goodness changed him and made him save Divya, but he is afraid of his loneliness.
Shristi says a human should not be afraid of truth and will get a partner if he tries. He asks if she will and says they are friends from today, shakes hands with her.Shristi cooks in kitchen. Ragini walks in and says she is craving for jam and searches it. Dulari walks in with jam smeared on her lips, sees jam bottle empty, shouts Dulari stole her jaam. Dulari says she did not want to eat full, but could not control. Ragini scolds she is pregnant, but Dulari ate jam, she is hungry now. Shristi says she made special arrangements to fill her stomaach. Ragini asks what… Dulaari says Anurag stopped to tell her and asks to wait on dining table. Ragini excitedly leaves. Dulari sees tattoo on Shristi's had and asks what is it. Shristi hides it.
Baiju and Shristi sit for lunch. Ragini sits with Anurag and eagerly checks food and gets disappointed seeing dalia/porridge, says this is not her favorite food. Anurag says it is in her diet chart and good for her baby. Revathi says Anurag used to love dalia and used to eat only dalia whole day. Anurag says she used to add lots of dry fruits, etc.., then stops reminiscing Revathi's betrayal. Dulari says she saw Munni Bai tattooed on Shristi's hand. Shristi asks where is it. Dulari insists. Shristi shows her hands and it is clean, she says Dulari reads spy novels and imagines things. She reminisces hiding tattoo with makeup. Dulari apologizes her.
Back to room, Ragini sees Anurag playing with doll and asks what is he doing. He says he is trying to practice making baby wear diaper. She asks to demonstrate. He tries but fails. Ragini asks to check in latpot and try. Anurag says it is laptop and even he is pronouncing latpot because of her. Vikral calls him and asks how is she, he wants to become grandfather soon. She asks why is he speaking so slowly. He says he is in hospital. She asks if amma and Parag are fine. Vikral says yes, he came to meet his friend and got his routine checkup, he found maternity room good here and booked it for her. She asks to send his reports and after disconnecting informs Anurag.
Anurag says he does not want any favor from Vikral as he does not like his lifestyle, but if she wants he will budge for her sake. She asks to check maternity room once.Shristi looks at her hand tattoo. Baiju feels guilty and says he wants to erase tattoo from her hand someone and wants to take her to Mumbai for laser treatment. Shristi reminisces Baiju betraying her and selling her in brothel and sits silently. Baiju pleads again to agree as he wants to clear his guilt. Shristi agrees and asks to book ticket, but what will they say family. Baiju says not to worry about that and walks away to book tickets.
Follow Us Social
Facebook Fans Zone: @365trendies
Twitter Fans Zone: @365trendiesNG
Instagram Page: @365trendies
What do you think about this post?
Get More Updates via Twitter and Facebook
[TEXT ADS] UPLOAD YOUR SONG ON ITUNES & 150+ STORES 100% ROYALITIES