Zara's Nikah – Friday Update (09 April 2021) – Zee World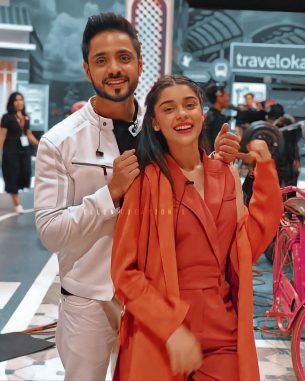 Zara's Nikah Update 11 April 2021: Sartaj tells Ruksaar I told you to not cheat me. Zeenat asks what is he saying? She slaps her and says did you marry him or not? Sartaj says no.. we did not marry, we had a deal. Kabir says what deal? Sartaj says ask her. Kabir punches him and says I won't spare you, you tried to run away with my Zara. Irfan asks Kabir to leave him, we will give him to the police. Sartaj says if you tell the police that I am Ruksaar's baby's father then you will be insulted, your house's woman has done a sin. Zara slaps him and says the world knows that Kabir is the father and people will know this truth only till this baby is born. Kabir says no I will not save Ruksaar this time. Zara says I know you did all this to protect the honor of this house and protect this baby. Kabir says you knew all this? Zara says yes, my love isn't that weak, I just wanted to hear it from your mouth.
Salma tells Kabir that Zara is right, Ruksaar should have been in jail but she is pregnant and we have to save her. Zeenat cries and says look at them Ruksaar, you have cheated and harmed them all life but they are protecting you today. She begs Kabir to let her stay here till this baby is born but I will decide her punishment. Kabir calls the police and asks them to come and arrest Sartaj.SP comes to arrest Sartaj. Sartaj hits an officer and snatches the gun from him. SP points a gun at him and asks him to put his gun down. Sartaj says let me go from here otherwise I will shoot Kabir. SP says don't shoot Kabir, I am putting my gun down. A bullet is shot and Kabir sees that SP has shot Sartaj in the head. Zara runs out and sees him dead. Kabir prays for his soul.
Zeenat asks Ruksaar to tell everyone how this happened? How Sartaj made you pregnant? Ruksaar says when Kabir divorced me, I didn't have much time left at this house and that Bubbly was getting close to Kabir. At that time, Sartaj called me and asked me to meet him. The flashback shows how Sartaj told her that we don't have money and you will lose the house of Kabir. If you give me the money then I will make you stay at Kabir's house forever. She says how? He makes her sit on bed and says if you become pregnant then Kabir won't be able to divorce you. He touches her face but she slaps him and says you are cheap. Sartaj said that you don't have any other choice. The flashback ends and Ruksaar says I didn't want to leave this house, I had no choice and I did the sin which I shouldn't have done. Zeenat says I took your side in everything, I was blind in your love but you have done such a big sin, how could you do it? She apologizes to Kabir and says I am begging you to forgive her for the last time.
Kabir says you should apologize to God and don't be this blind again. Kabir tells Ruksaar that you should thank Zara because you are here still on her permission. Ruksaar cries and folds her hand to Zara. Zara says I am sorry Kabir, you were protecting the innocent baby. Kabir says no, you knew everything but still remained with me. Zara says I found your divorce papers with Ruksaar but I wanted to know your helplessness, I got to know that your duty towards humans is above everything else and even your love, if I could bow to you after God then I would. Kabir says a new life full of love is waiting for us.
Zara comes to Ruksaar's room and says you killed Ayesha.. Ruksaar says she was my mother too, Kabir says Shahbaz told us that, he wrote it. Kabir shows how Shahbaz wrote that Ruksaar killed Ayesha and she was scaring him too. He got the strength and wrote this. Ruksaar says I didn't do anything like that, he is going crazy. Zara says someone else testified to it too. Ruksaar says who? Zeenat says me, I did a mistake of protecting your sins. The Police come there. Kabir tells Ruksaar that you have shamed the whole humanity, I kept you here on Zara's saying but you killed my mother.. it all turns out to be Ruksaar's dream. She says I have to make Shahbaz silent before he can bring this truth out.
Zara comes out of the showers and jerks her wet hair. Water falls on Kabir, he smiles at her as Zara wipes his face. They both smile at each other. Qafirina plays as Kabir pulls her closer. Kabir brings breakfast for her. Zara enjoys it and says this is delicious. Kabir says this is your favorite. Zara says wow but you never liked them and I stopped making them. Kabir says but they are your favorite and you don't have to stop making them just because I don't like them, you will get everything you like from now. Zara smiles at him. He says I will bring lassi for you, he leaves. Zara starts cleaning the room. Kabir comes back and is surprised. Zara says what? I know you like the white color so I changed the curtains and bed-sheets to white. Kabir says but you don't like them? Zara says I will try to change my liking for you. Kabir gifts her a colorful suit and says I want colors in your life. They both enjoy tea together.
Zara is playing music for Shahbaz and sees him eyeing pen and paper. She gives it to him and says you want to tell me something? He tries to write but can't grip the pen. Ruksaar hides and thinks that if Shahbaz writes it then I am gone. Zara asks him to keep trying. He can't write. Zara thinks at least he started trying.
Zara comes to Kabir and says Shahbaz was trying to write today, we are seeing improvement in him. She asks the servant to stay with Shahbaz.Zeenat brings food for Shahbaz and sees Ruksaar hiding there. She gives her the knife and says kill me first before killing Shahbaz. Ruksaar says you know my secrets. Zeenat says I did the big sins by hiding your sins and secrets. Ruksaar says don't worry, I killed Ayesha and still standing here. Zeenat says be afraid of God, if anyone knows that you killed Ayesha then we are all gone, we will be destroyed and my son will not have a good life. Ruksaar says you can't be scared, I told you to not tell this secret to anyone.. if you tell this to anyone then I can hurt Amaan as I have killed Ayesha. Zeenat is stunned and says you have crossed all limits, fine I will not tell this secret to anyone but I won't let you do anything wrong from now on.
Ruksaar says you are threatening me? Zeenat says yes, I promise on our mother if I see you near Shahbaz then I will send you to hell myself. She leaves from there.Zeenat brings food for Shahbaz. Zara thinks Shahbaz doesn't get tensed seeing Zeenat as he does in front of Ruksaar. Imran comes there and says all here to welcome Kabir and Zara, let's go.Kabir and Zara come to the lounge to see everyone there. Flowers shower on them. Zara thanks everyone from sharia board. A member says we want Zara to come back to the board. Imran says we have a member who is ill and he wants Zara to take his seat. Zara thinks this will bring friction between me and Kabir. Irfan tells Zara that she should think about her duties which she can fulfill in the sharia board and Zara's husband I want to ask Kabir what he thinks? Kabir looks on.
Follow Us Social
Facebook Fans Zone: @365trendies
Twitter Fans Zone: @365trendiesNG
Instagram Page: @365trendies
What do you think about this post?
Get More Updates via Twitter and Facebook
[TEXT ADS] UPLOAD YOUR SONG ON ITUNES & 150+ STORES 100% ROYALITIES