Ring Of Fire – Sunday Update (11 April 2021) – Zee World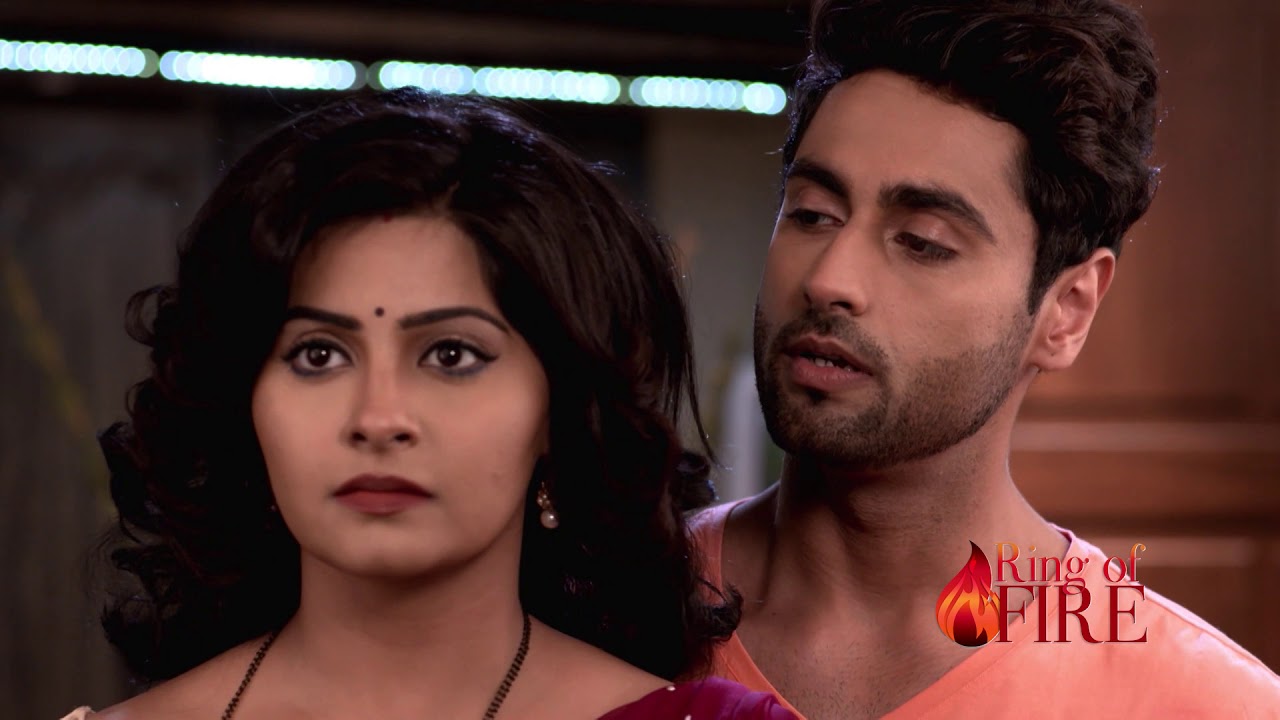 Ring Of Fire Updates 11 April 2021: Ragini sees Revathi punishing Dulari and making her do situps and asks what did she do. Revathi says she kept gas cylinder on terrace instead of kitchen. Baiju says he will bring it. Revathi says she asked Brij instead, he need not worry. Shristi says she is going to her friend's wedding in Mumbai. Revathi permits her and Baiju to go. Anurag walks in scolding Ragini to rest. Brij brings heavy cylinder via stairs and slips. Revathi sees cylinder falling towards Anurag and rescues him. She herself falls. Anurag worriedly asks her if she is fine and hugs her. Revathi emotionally says she was eager to hug him and apologizes him for her sins. Anurag hugs her again and apologizes for troubling her. Dulari says Anurag forgave her, even she should forgave her. Revathi forgives her.
Brij feels guilty and says if something had happened, he would notg have forgiven himself. Revathi says by god's grace, everyone is safe.Baiju and Shristi get ready to leave for Mumbai with their bags. Dulari gives her long list followed by Divya saying if he has made her as his sister, he should tolerate her tantrums. Baiju says he will happily. They both see off family and walk away. Ragini wishes them all the best.
Ragini gets call repeatedly and angrily picks it shouting who is pestering her. She shatters hearing her father met with an accident and collapses. Anurag holds her. She, Anurag, and Vidhvan reach hospital and ask Ammaji and Parag what happened to babuji. Parag says even they go a message and came here. Ragini insists to see Vikral. Doctor says she cannot enter ICU. She insists.Shristi and Baiju reach Mumbai's hotel. Shristi requests 2 rooms to receptionist. Receptionist says he has only 1 room, if they are couple. Baiju says yes and shows his ID card. Receptionist says he has only 1 room. They both agree. Receptionist says he has 2 luxury suites, but they cost 15,000 per day. Shristi says they will manage.
Doctor comes out and informs family that Vikral is suffering form paralysis and his body organs are not moving, he cannot hear or answer or walk. Ammaji collapses. Ragini says her father roars, she will not accept this lie. Vidhvan asks her to control herself. She walks into ICU and shatters more seeing unconscious Vikral on bed. Anurag consoles her and says she has to take care of her and their baby.Shristi and Baiju enter hotel room. Baiju asks why did she reject double room. Shristi says she knows he returned Vidhvan's money and gave Chanda's money in charity, he does not have much money left. He asks her to sleep on bed while he sleeps on floor and gives her water.
Vikral's political party members enter hospital and insist to meet him. Ragini scolds them. They ask who will handle party in Vikral's absence. Parag says he will.Shristi goes for her tattoo's laser treatment. Doctor picks injection. She gets nervous and pulls Baiju's shirt and breaks buttons. Baiju comforts her. She asks if she broke buttons. Baiju says yes, he is feeling cool anyways. Doctor says today's treatment is complete, still she needs 2 sessions and should not put water on her sensitive skin. Baiju says he will take care of her. Shristi asks what will they do till tomorrow. Baiju says shop his sisters Dulari and Divya's list and roam a lot.
Parag says party workers he will handle party and not let babuji's hard work go in vain. Ammaji says Vikral's son will handle it. Parag orders not to let anyone badmouth about babuji. Ragini emotionally says Parag became babuji's competent son now an hugs him. Shristi and Baiju go on Mumbai's sight seeing in a taxi. Shristi enjoys cool breeze. They enjoy street food. Parag in hospital signs Vikral's party papers and assures party workers that work will be done. One worker tells Tiwari that Parag is waste and Virkal is in coma, so they should change party. Tiwari says they should get Vikral killed and take over party. Parag goes out to get medicine. Ragini asks Anurag to drop amma home as she is tired. Anurag leaves. Ragini enters Vikra;'s room and seeing him in coma reminisces his love for her and gets emotional, says he always protected, now it is her turn. She goes out to wash her face.
Baiju sees couple playing with balloons and comment city people are fools to play with balloons. Shristi says even she likes playing with balloons, butterflies, etc. Baiju brings her balloons. Their chit chat starts.Ragini sees hospital empty and hears peon talking to his aide that everyone is clear now, they can kill injured tiger. She runs to Vikral's room calling bodyguards and fuming she did not get her gun here. She gets Vikral on wheelchair and hides. Peons shoot Vikral's bed and then realize its just pillow. They think someone took Vikral out and they should kill them before they go out. Ragini runs with Vikral on wheelchair.
Shnristi coughs in crowd. Baiju goes to get her water. She walks a bit away flying her balloons. Baiju returns and gets worried for her. He then sees her and emotionally hugs. Shristi sees someone selling Alfonso mangoes and insists to buy. Seller says 250 rs/kg. Baiju gives 500 rs and asks to keep rest of money. Shristi holding mango box walks a bit says let us go back to hotel via taxi.
Baiju says he gave all money to mango seller. She says she has some money. They get into taxi. Enuch asks them money. Seh says she has money only to pay taxi, he/she can take mangoes instead and gives box to her/him. Baiju thinks he will gain her trust again soon.
Ragini takes Vikral wearing apron and stethoscope. Goons pass by thinking her as doc, but then they see her running and follow her. She hides in morgue, they check and walk out thinking what will they say Tiwari. Ragini runs out again. They find her and point gun on them from both sides. Ragini warns if something happens to her babuji, she will not spare them. They point gun at Vikral.
Follow Us Social
Facebook Fans Zone: @365trendies
Twitter Fans Zone: @365trendiesNG
Instagram Page: @365trendies
What do you think about this post?
Get More Updates via Twitter and Facebook
[TEXT ADS] UPLOAD YOUR SONG ON ITUNES & 150+ STORES 100% ROYALITIES